Jewish Women's Fund of Atlanta Blog
Share. Connect. Inspire.
November 16, 2018
It's hard to believe it's been two years since our site visit trip to Israel! We can hardly wait until October 2019, when we will return. In the meantime, we'll settle for pita and falafel in Atlanta, while we reminisce about our last trip and brainstorm about the next one. Will you join us?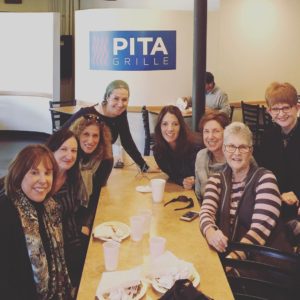 November 13, 2018
The Zaban-Paradies Center is the only shelter in Atlanta for homeless couples. In advance of Thanksgiving, JWFA Trustees and friends rolled up their sleeves and spent the morning making lunches for the Center's residents, then taking a tour of the facility.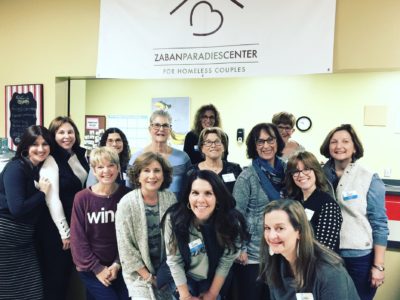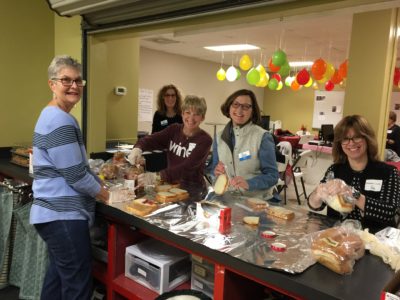 October 30, 2018
This is the first year that JWFA has allocated a grant to JobKatif's Achotenu program, and the results are already amazing! JobKatif empowers Ethiopian-Israelis to follow their aspirations of becoming nurses by providing tutoring, living subsidies, and group support.
As a young child, D journeyed across the Sudan with her family, dreaming of making aliyah to Jerusalem. Along the way, her mother decided to separate D from the rest of the family, thinking that this way she would have a better chance of surviving the arduous trek. D remembers the heart wrenching feeling of being torn from her mother. She joined another family, who fed her meager scraps through the reminder of the trip. Eventually she was reunited with her family and they made it to Jerusalem. D recalls beginning school in Israel and holding a pencil for the first time in her life. She was the only non-White person in her class.
Fast forward 20 years. D graduated high school, got married, had children, and worked as a nurse's aide but dreamed of becoming a nurse. D applied to JobKatif, doing her homework alongside her children who were doing theirs. Today D is employed as a nurse and encourages her children to succeed in school, so that they too many follow their dreams.
"The best thing about Achotenu is the community. I know that I can always call someone for help, and sometimes people call me. We are all there for each other."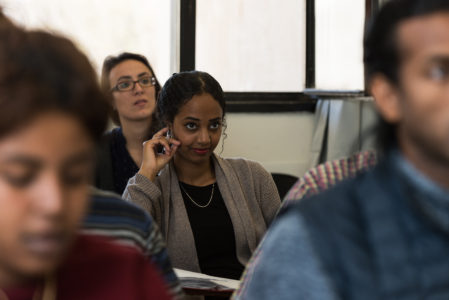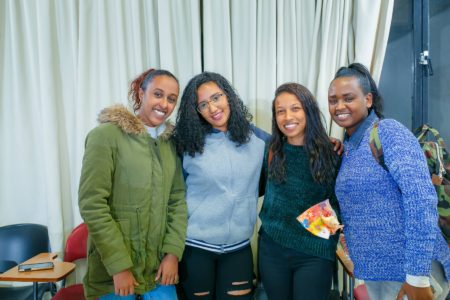 October 11, 2018
Part of our mission statement is "creating positive opportunities for Jewish women and girls," and this year we have been finding more and more ways to engage Jewish women throughout Atlanta in our work. October 11th was International Day of the Girl, and we honored the day by hosting a facilitated book discussion of "The Female Persuasion" by Meg Wolitzer. It was very meaningful to sit in a room of women, many of whom had never met before that day, and have passionate discussions about feminism and sisterhood. 
Do you have a suggestion for a book for a future book discussion? Let us know! 
September 26, 2018
We are always proud of our Grantee Partners. They are on the ground every day doing important work to facilitate social change for Jewish women and girls. Recently, several of our Grantee Partners were honored with a well-deserved distinguished award, and we can't stop kvelling! 
The prestigious Genesis Prize, known as the "Jewish Nobel Prize" was presented by Justice Ruth Bader Ginsburg to thirty-seven Israeli women's rights organizations serving women from all of Israel's ethnic and religious groups, including JWFA Grantee Partners: Center for Women's Justice, Wepower, and Van Leer Institute. Read all about the award here. 
Click here for a complete list of award winners, including our very own Grantee Partners. 
September 21, 2018
Last week a room full of JWFA Trustees gathered for the first quarterly Trustee Board Meeting of our 2018-2019 year. We were delighted to hear from two amazing guest speakers, representing two of our Grantee Partners. First, Dr. Mazal Shaul, Executive Director of WEPOWER, spoke to us about the upcoming election and what WEPOWER is doing to prepare female candidates for success. A record number of women are running for mayor in Israel, including Mazal herself! We are so proud to support WEPOWER as they increase the number of women in Israeli politics. Click here to view the entire interview with Mazal.
Next, we were thrilled to meet with Rabba Melissa Scholten-Gutierrez, a recent graduate of Yeshivat Maharat, and an even more recent transplant to Atlanta! Rabba Melissa provided us with insight into the leadership curriculum that JWFA has supported for the last three years. Additionally, she answered a number of questions about what it means to be female Orthodox clergy. The entire speech can be viewed on our Facebook page. 
September 18, 2018
Thank you to the Atlanta Jewish Times for this great article about our recent program with Dr. Alexis!
September 17, 2018
A Rosh Hashana Message
As Jews, this time of year is all about new beginnings. For those of us with school-aged children, the past month has been a series of new beginnings: a new school year, new teachers, new school supplies, new schedules, and new expectations. For those of us celebrating the High Holidays, we make new promises to ourselves and to God, we begin a new cycle of the Torah readings, and we begin a new Jewish year. For all of us, we begin a new season. The mornings are becoming crisper, the air becomes less thick with that sticky Atlanta humidity, and we can start to see the signs of fall coming soon. It seems difficult to navigate the early weeks of September without feeling this newness all around us.
New beginnings can be scary, and yet at the same time they hold the promise of something better. We spend each Rosh Hashanah and Yom Kippur striving to be better than we were the year before. We commit to making changes in our lives, and whether those changes are spiritual or interpersonal in nature, they come with risks. Fear of the unknown, fear of change, and fear of new beginnings are natural human emotions. And yet, while a new beginning may be accompanied by fear, it also brings the possibility of great success.
For the Jewish Women's Fund of Atlanta, new beginnings, change, and risk are at the heart of our work. Jewish Women's Fund of Atlanta promotes social change and expands positive opportunities for Jewish women and girls. Each year, we allocate grants to organizations and programs that align with our mission. Over the years, we have supported many pilot programs, and while the risk of a new project can be scary, it also holds the possibility of great positive change for our community.
This year, Jewish Women's Fund of Atlanta has made grants to allow several pilot programs to launch right here in Atlanta. Atlanta Jewish Academy's Women in STEM Career Fair Initiative will increase access to and interest in careers in STEM for Jewish women and includes a one-day career fair with year-round mentoring opportunities for female high school students in Greater Atlanta. Jump Spark (formerly known as the Atlanta Jewish Teen Initiative) is launching Strong Women: Know Them, Be Them. This pilot program will connect female Jewish high school students with strong female role models across a spectrum of business, medicine, art, and law through days of learning, community mentorship, and empowerment. TrueChild, a national organization dedicated to challenging rigid gender norms, will work in partnership with JF&CS to launch JET: Jewish Girls Empowered Together. JET will teach middle school girls to think critically about gender norms, particularly in having more constructive ideas around female leadership, strength, and self-efficacy. SOJOURN is entering the second year of its two-year pilot program: Early Development of Gender Equity (EDGE), which works with kindergarten and first grade students, teachers, and parents throughout Atlanta's Jewish community to break down gender stereotypes and allow children to reach their highest potential while eliminating gender inequity.
To date, these projects are all still at their beginning stages, and we eagerly anticipate watching how they unfold and hearing about their achievements. Each program has expected outcomes and measures of success, but as with everything new, we know to assume twists and turns will occur along the way. These programs allow the potential for great positive change in our community. As we elevate the voices of young Jewish women, we get a glimpse into a future where girls and women in our community have the same opportunities as boys and men. In order to accomplish this rather lofty goal, we know we must take risks along the way. Though they may be accompanied by anxiety or uncertainty, risks are not inherently bad; but rather, they are really just new beginnings.  
At this time of fresh starts and new beginnings, I want to invite you to engage with Jewish Women's Fund of Atlanta as we change our community for the better. Please contact me at rwasserman@jwfatlanta.org to learn more about how to get involved. L'shana tova u'metuka.
September 1, 2018
New Opportunity for Atlanta Teens
Jewish Women's Fund of Atlanta has a history of supporting pilot programs, particularly in Atlanta. This year, we are proud to allocate a grant to Jump Spark (formerly known as the Atlanta Jewish Teen Initiative) for its Strong Women: Know Them, Be Them fellowship. This year-long, one-of-a-kind cohort will provide female-identifying Jewish high school students in Atlanta with unparalleled access to strong women leaders, thinkers, and voices shaping the world we live in today. Jump Spark has been recruiting speakers and mentors for the program, including Rachel Wallack of VOX Teen Communications, Caroline Rothstein (writer, poet, and performer), Nadia Bilchik, Rabbi Malka Packer-Monroe, and more. Applications for teens are due September 15th, so spread the word!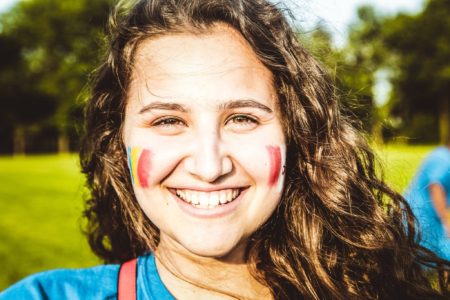 August 29, 2018
"4 Keys to Longevity"
We were so thrilled to have a packed house for "4 Keys to Longevity" with Dr. Alexis Abramson. Dr. Alexis discussed the four areas that women should address if they want to live a long, healthy life: mind, body, social, and financial. With humor, wisdom, stories, videos, and research-based data, Dr. Alexis covered a lot of ground in a very short time. Though the program was targeted to women in the "sandwich generation," the information was applicable to women at any age. 
Many thanks to Dr. Alexis Abramson, Congregation B'Nai Torah, and A Kosher Touch Catering. Thank you as well to our Community Partners: AgeWell Atlanta, a collaborative with Aviv Older Adult Services of JF&CS Atlanta, Jewish Federation of Greater Atlanta, Jewish Home Life Communities, and the Marcus Jewish Community Center of Atlanta – MJCCA; Cong. Beth Jacob Sisterhood; Hadassah Greater Atlanta; Jewish Federation of Greater Atlanta Women's Philanthropy; MACoM – Metro Atlanta Community Mikvah; and Temple Sinai.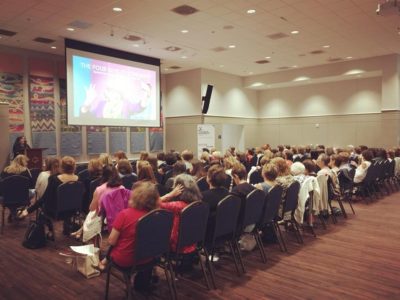 August 22, 2018
Open Hearts for the New Year
On August 22, 2018, Jewish Women's Fund of Atlanta officially launched our newest initiative, "Coffee & Conversation," with a heart-opening yoga class led by JWFA Vice-Chair Andrea Jaron. Part of our mission statement is "creating positive opportunities for Jewish women and girls," and this yoga class was a perfect match for that mission! This time of year – the end of summer, the beginning of a new school year, the approach of the Jewish high holidays – can be a very busy and stressful time for Jewish women. By taking the time for self-care, breathing, and heart-opening stretches and poses, the women who attended are now better-equipped to face the challenges ahead.
We hope you will join us for our next Coffee & Conversation, which will be held on October 11th in honor of International Day of the Girl. We will have a book discussion about Meg Wolitzer's novel, "The Female Persuasion," which will be guided by an expert facilitator. The event is free, and all are welcome!
Join us for coffee, conversation, and a greater understanding of our mission and impact. At Coffee & Conversation, the activity or topic might change, but the goal is always the same: introduce women to our mission of promoting social change and creating positive opportunities for Jewish women and girls. From yoga to book club to guest speakers on important topics, Coffee & Conversation will offer something for everyone!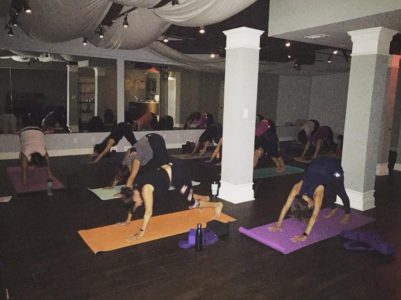 July 23, 2018
A Big Win for ATZUM
In the fall of 2016, a delegation from Jewish Women's Fund of Atlanta visited Israel to visit our Grantee Partners and gain a better understanding of women's and girls' issues in Israeli society. One of the most powerful meetings was the hour we spent with Rabbi Levi Lauer from ATZUM, learning about their task force to end human trafficking and prostitution in Israel. Soon after, ATZUM became a JWFA Grantee Partner. Their work aims to not only protect current victims of trafficking and those forced into prostitution, but also to criminalize the sale of sex and therefore punish traffickers, pimps, and johns.
Since that time, AZTUM has led the way to significant changes within Israel. Following a relentless, decade-long effort, on June 13, 2018, Minister of Justice Ayelet Shaked officially published Israel's government memorandum of law for the Prohibition of Consumption of Prostitution Services. The memorandum, formally confirming the State of Israel's commitment to confront the prostitution industry, finally and decisively defines the consumption of prostitution as an illegal and socially unacceptable act.
"Today we are sending a message that trafficking women and purchasing prostitution services are out of bounds. Using prostitution services is morally wrong, offensive and objectifies women's bodies. There is no reason women in our society should be abandoned." -M.K. Ayelet Shaked
ATZUM was instrumental in this effort. We are proud to support them today and every day as they continue the fight to end human trafficking in Israel.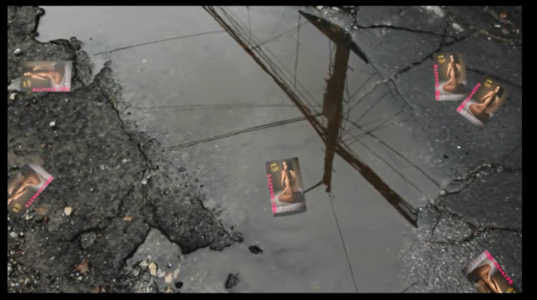 July 1, 2018
An Evening at the Hackathon!
Since much of our work happens in Israel, it is not often that JWFA Trustees get to witness it firsthand. So, when JWFA Founder Ilene Engel and Grants Chair Linda Davis realized they would be in Jerusalem at the same time as the Jerusalem College of Technology LevTech Entrepreneurship Program Hackathon (JCT), they knew it was meant to be! Their visit to this Grantee Partner proved to be inspirational and educational. 
JCT trains 1 our of every 5 female computer science and software engineers in Israel. The student body is Haredi; however, although the students are highly-trained during their time at JCT, the Haredim have traditionally been underrepresented in the hi-tech entrepreneurship ecosystem. This is especially true of women, who tend to work in programming positions where they are recognized for their skills but do not normally work in product development or leadership roles. As a result, the full potential of Haredi women is not reaching the market, and the country is missing out on potentially game-changing ideas. 
Thanks to a grant from Jewish Women's Fund of Atlanta, this year, the new JCT Entrepreneurship Program began operations to provide students with tools and opportunities to innovate. The goal of the Hackathon was to provide a chance for the students to work on products in interdisciplinary teams over a short period (44 hours), and to boost their confidence in this area. One hundred and forty young women were presented with complex challenges by major Israeli medical, financial, technology, and military companies. 
The Hackathon exceeded everyone's expectations. Nursing mothers competed, holding their babies in their labs while programming. A group of first-year students who did not yet know how to program stayed up all night learning how to code and ended up developing a web-based math learning program for children. Nineteen products were developed in only 44 hours! 
The judges were blown away. The energy of the women, their willingness and courage to teach themselves new skills and then compete with them, their commitment to product development…it was all unbelievable! Women even slept on benches in order to have time to complete their projects!
Ilene and Linda had this to say, "With such specialized skills, these women will become important wage earners and leaders in their communities, paving the way for future generations of women. We left the evening feeling incredibly inspired and very proud of Jewish Women's Fund of Atlanta." 
Click here for a brief 2-minute video about the hackathon.