Jewish Women's Fund of Atlanta Blog
Share. Connect. Inspire.
August 20, 2019
We are thrilled to announce the first class of participants in our ACT: Agents of Change Training program. Click here to view the list and short bios of these incredible ACTivists.
August 1, 2019
The "Auditioning ACT" by Enid Draluck, JWFA Education Chair
You never know if what you envision will come to fruition, but after participating in the interview process for the pilot cohort of ACT (Agents of Change Training program), there is no doubt in my mind that this is the real thing!
When JWFA's Program Manager, Dina Fuchs Beresin, did her research about what leadership programs for Jewish women were out there, and more importantly what was not, it is obvious that ACT resonated with more women than we could accommodate during this pilot cohort. The overwhelming response was confirmation that what ACT represents is what the women in our community are craving.
The diversity in a group of women that are not really diverse, was testament to the need for a program like this across the broad spectrum of Jewish women in our community. Professionals in the secular and Jewish sector, empty nesters, community volunteers, young, middle age and older, native Atlantans and transplants, Reform, Conservative and Orthodox. They were introspective and willing to answer the well thought out questions and in doing so making themselves vulnerable.
ALL were looking forward to and optimistic about being pioneers and helping to shape what the program will look like. The resounding thread woven through all of the interviews I participated in was the potential to create a cohesive group of Jewish women who could establish a bond between themselves and work toward the greater good for each other and other Jewish women and girls in our local community.
I was truly humbled to be able to speak with and learn from so many incredible women, especially our own – Rachel and Dina. We, JWFA, are doing cutting edge work and I was so proud to be representing our Fund to the outside community during this interviewing process.
WE are making our mark on this community and the ripple effects are endless.
May 29, 2019
Jewish Women's Fund of Atlanta Announces 2019 Grantee Partners
May 29 (Atlanta): Jewish Women's Fund of Atlanta (JWFA) has issued its 2019 grant allocations to twenty organizations that promote gender equality in the Jewish community. The grantee partners, located both domestically and internationally, share JWFA's mission to promote social change and create positive opportunities for Jewish women and girls. JWFA uses the power of collective giving to fund long-term solutions to issues that impact women and girls in the Jewish community. Over the last seven years, JWFA has invested over $915,000 in grants to promote gender equality in the Jewish community. No other organization is as exclusively and passionately dedicated to the advancement of Jewish women and girls in Atlanta and around the world.
The group awarded the following 2019 grants, totaling $200,000:
Impact Area: Education and Leadership
Atlanta Jewish Academy, Young Women in STEM Career Fair and Mentoring Program – This program will increase access to and interest in careers in STEM for Jewish women and includes a one-day career fair with year-round mentoring opportunities for female high school students in Greater Atlanta. It provides access for the students to meet with women who have a variety of careers in STEM fields and to learn about STEM-based college curricula and career opportunities with the additional benefit of mentorship opportunities.
HaMidrasha, Lishmah – Lishmah is a study program integrated into a 10-month pre-army curriculum that empowers young women to become activists, leaders, and agents of social change at mechina, in the IDF, and in Israeli society. It also challenges young men to embrace and promote gender equality and gender identity acceptance as fundamental social and Jewish values.
jGirls Magazine, General Operating Support – jGirls is an online magazine written by and for self-identifying Jewish teenage girls. Content is created by teens and curated by a teen editorial board. jGirls users are empowered with leadership skills, self-esteem, sense of identity, and engagement and status within the Jewish community, while building a pipeline to a future cohort of bold, committed Jewish female leaders.
Jscreen, PEACH BRCA Study – In partnership with the Emory Winship Cancer Institute, this pilot program will provide free BRCA testing and genetic counseling for up to 500 Jewish women and men who do not have a personal or close family history of cancer but are at increased risk for carrying a BRCA mutation because of their Ashkenazi background. The ultimate goal of the pilot study is to expand the program nationally and make convenient, affordable BRCA screening and counseling available to Ashkenazi Jews across the country.
JumpSpark, Strong Women Fellowship – Building on the success of last year's pilot, this program provides female-identifying Jewish teens in Atlanta access to strong female leaders, connection with peers, and empowering learning. By grappling with the myriad issues facing women today, this fellowship prepares teens to be strong leaders and advocates while incorporating a peer training model.
SOJOURN, Comprehensive Sex Education for Jewish LBGTQ Teens – This pilot program will empower participants to make informed and responsible decisions about sexual health and behavior by providing age-appropriate, medically-accurate, comprehensive sex education that is targeted specifically for members of the LGBTQ and Jewish communities. A broad range of topics will include human development, relationships, contraception, and disease prevention.
WePower, General Operating Support – WePower operates ongoing leadership training programs to proactively promote women's leadership and gender parity in the public and political sectors of Israel. WePower locates potential women leaders and encourages and motivates them to pursue leadership roles by providing them with tools, know-how, and networking platforms.
Yeshivat Maharat, Advanced Kollel: Executive Ordination Track – This program trains and ordains Orthodox women who are already educators and leaders in the Jewish community but who never had the opportunity to receive rabbinic ordination because Yeshivat Maharat did not exist when they began their careers. Through a part-time, three-year intensive course of learning leading to ordination, the Executive Ordination Track brings greater equity to the field of Jewish education and leadership.
Impact Area: Social Justice and Violence Prevention
ATZUM, Task Force on Human Trafficking and Prostitution –TFHT confronts the social-political issues that perpetuate human trafficking and exploitation through prostitution and seeks protection for its victims. After celebrating the recent success of the "Prohibition of Consumption of Prostitution Services Bill" becoming law, TFHT will now work to secure options for medical and psychosocial treatment, housing, and occupational training for prostituted persons and public education to support integration of these women into Israeli society.
Center for Women's Justice, Legal and Social Activation Project for Women's Rights – CWJ will utilize bolstered litigation initiatives, educational outreach, and public mobilization to achieve equality and dignity for Jewish women in Israel in the face of the control of the religious court. CWJ's unique strategy uses civil law to identify, challenge, and eliminate infringements on women's rights by setting key precedents with the potential to overhaul institutionalized, systemic injustice.
Hebrew University, Economic Development of Women Clinic – The Economic Development of Women Clinic of the Clinical Legal Education Center at Hebrew University's Faculty of Law advocates and protects the socioeconomic rights of women, focusing on women at the margins of society, who often face multiple levels of discrimination. The Clinic's goals are to effect broad change in the policies and common attitudes adversely impacting these women; to empower women and provide individual legal advice and representation; and to educate law students in gender-sensitive legal thought and discourse, giving them the opportunity to practice law for social causes and developing in them an understanding of the unique problems women face.
Makkom, Our Place: Young Women Leading Social Change – The project encourages the leadership and social activism of young women from vulnerable populations. In a series of meetings between the young women and law students, they will choose issues from their own life experience, perform legal and social research, offer methods to promote relevant social change, and start implementing those methods.
Moving Traditions, Training Institute for Summer Camp Leaders – This pilot will build a culture of safety, respect, and consent at Jewish summer camps by preparing camp professionals to train their staff with the knowledge, skills, and tools to identify and eliminate sexism, inappropriate sexuality, harassment, and assault.
Impact Area: Economic Empowerment
Atid BaMidbar, Mevashlot: Culinary Queens – This project brings livelihood and dignity to low-income women aged 50-75 from diverse ethnic groups, most of whom have never worked outside the home, empowering them economically and personally while contributing to local sustainable economic development in the Negev. As they host visiting groups from Israel and abroad for meals and share their inspiring stories, the women exemplify grassroots leadership and are well paid for their skills, heritage, and hospitality.
Jerusalem College of Technology, Women's Entrepreneurship Program – This initiative provides Haredi women with exposure to the hi-tech ecosystem and training in innovative thinking and business development for hi-tech product and company creation. The program encourages women to fulfill their potential as innovators, either by starting their own companies or applying their entrepreneurial skills to attain higher level positions in larger companies.
Jewish Women's Funding Network, Women and Mothers at Work: Gender Transformative Employment Policies – This collaborative grant with 14 other Jewish women's funds from around the U.S. supports collaborative and effective efforts for women's rights and gender equality in Israel, with a focus on labor rights for contract employees.
La'Ofeck (formerly JobKatif), Achotenu: Academic Nursing Program for Ethiopian-Israelis – Achotenu empowers young Ethiopian-Israelis to follow their educational and career aspirations of becoming nurses and thereafter establishing a stable financial future, while serving as role models for their community.
Public Knowledge Workshop, FemBuy – FemBuy will collect and share data across numerous platforms that will quantify the actual number of government contracts currently held by female-owned/operated businesses with the ultimate goal of increasing the proportion of contracts granted to female-owned businesses, in accordance with current Israeli law.
Women's Spirit, Breaking the Bind – Breaking the Bind advocates for change in fundamental Israeli policies and laws that undermine, destabilize, and weaken women's financial security and personal safety, especially survivors of violence. It sheds light on the invisible violence women suffer after they are no longer considered victims, as well as the pain and setbacks caused by systemic injustice and outdated laws.
Yozmot Atid, General Operating Support – Yozmot Atid supports economic independence for women from diverse sectors of Israeli society so that they can transform their lives and break the cycle of poverty by establishing micro-businesses. The program provides low-income women with a comprehensive set of tools to advance their business plans, including high-level mentoring and micro-loans.
In addition to its grant-making, JWFA works strategically to host educational seminars, has been a local leader in human trafficking prevention, is launching the Agents of Change Training program, and is in the final stages of a community needs assessment to assess the needs of women and girls in Atlanta's Jewish community.
May 1, 2019
"Be the change you wish to see in the world!" -Ghandi
This familiar quote serves up powerful inspiration, but the question remains – How exactly do you "become the change?"
Jewish Women's Fund of Atlanta is proud to launch the inaugural year of the Agents of Change Training (ACT) program, designed to give women in the Jewish community the necessary tools to use their voices to truly BE THE CHANGE – to get involved in causes they are passionate about and make a difference in impactful and meaningful ways.  Through exclusive, interactive seminars led by accomplished leaders, activists, and influencers, ACT will challenge and engage this 1st cohort, while providing networking and mentoring opportunities designed to foster a sense of growth personally, professionally, and communally.
This is your chance to participate in an innovative leadership and advocacy program presented from a uniquely Jewish, female perspective.
The pilot class of ACT will launch in fall 2019 and run through spring 2020. Two-hour sessions will be conducted in various locations around Atlanta and will cover a variety of topics, including female leadership in the #metoo era and the power of collective activism. Participants will also be invited to various JWFA programs, meetings, and social gatherings.
If you or someone you know is interested in being a part of this exciting endeavor, more information and a printable application can be found here. To submit your application online, click here. APPLICATIONS ARE DUE BY JULY 1, 2019.
ACT is open to all women in the Jewish community 25+, regardless of their previous involvement or leadership experience.
March 7, 2019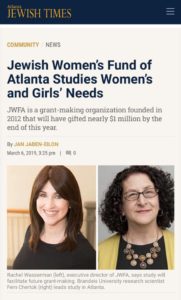 Click to read all about our newest initiative! 
February 21, 2019
For Immediate Release:
Jewish Women's Fund of Atlanta Launches First Ever Community Needs Assessment Focused on Jewish Women and Girls in the Greater Metro Area
ATLANTA, GA, February 12, 2019 – In an ongoing effort to uncover key areas of need for Jewish women and girls, Jewish Women's Fund of Atlanta (JWFA) is spearheading a study designed to more accurately identify future funding priorities. The study is the first of its kind to focus solely on this demographic within the local Jewish community.
Conducted in collaboration with researchers at Brandeis University's Cohen Center for Modern Jewish Studies and the Steinhardt Social Research Institute, data collection will continue throughout the spring with findings announced in early summer. The effort is being led by JWFA trustees Lisa Fox Freedman and Martha Berlin.
"Since JWFA began six years ago, our goal has always been to elevate the voices of women and girls, and our incredible grantee partners have allowed us to truly make a difference in our community," says Rachel Wasserman, Executive Director of JWFA. "This study will only enhance our ability to ensure that the types of programs and initiatives we are funding are the most relevant and impactful and best address the needs of contemporary Jewish women here in Atlanta."
The research will shine a light on the most urgent needs of specific populations of women to determine whether current resources are adequately addressing those needs and identify issues of immediate priority. Data will be gleaned from a variety of sources including a wide array of focus groups, interviews with key community leaders and conversations with women and girls across the metro area. An advisory panel has also been seated that includes participants representing Jewish Family & Career Services, Sojourn, Jump Spark, the Marcus Jewish Community Center of Atlanta and Jewish Home Life Communities.
Lead Brandeis researcher, Fern Chertok, notes that analyzing such data is truly an art form. "Ultimately, what we are attempting to do for JWFA is to build a narrative that captures the lived experience and the animating concerns of women and girls," she says. "Issues facing women and girls in Atlanta may or may not mirror what is happening nationwide within our Jewish communities. Our goal through this study is to produce actionable knowledge that delves into issues of particular relevance to this demographic, such as aging and caregiving, work and family, and equitable access to opportunities and wellbeing."
Founded in 2012, Jewish Women's Fund of Atlanta promotes social change and expands positive opportunities for Jewish women. Each year, JWFA accepts funding proposals and makes allocations according to a group decision-making process. In its first six years, the organization invested $715,300 in 39 partner organizations, collectively providing a more safe, healthy, and equitable future full of possibility both directly and indirectly to over 500,000 women and girls. More than 100 trustees currently serve as informed Jewish philanthropists and leaders by taking an active hands-on approach to JWFA's grant-making process.
JWFA is part of The Jewish Women's Funding Network, a collaborative of 25 member organizations engaged in social change fundraising, advocacy and grantmaking to change the world for women and girls.
February 19, 2019
We just received a beautiful story from our grantee partner, Achotenu, which promotes economic empowerment for Ethiopian Israelis. Achotenu recently hosted an undergraduate class from the @univofmaryland. The students, who were on a study-abroad trip in Israel, consisted of one Jew and five African Americans, including one from Ethiopia.
The purpose of the visit was for the American students to learn about challenges that the Ethiopian Israeli sector faces in the Israeli educational system and workforce, as well as how Achotenu addresses these issues. The Achotenu students spoke about their barriers to entry to academia and how Achotenu is helping them achieve their dreams of studying nursing.
One of the most poignant moments of the visit was when an Ethiopian American student, who had previously spoken in English, asked our students in Amharic how they maintained their cultural heritage in Israel. The Israeli students looked shocked upon hearing their native tongue. They answered and then posed a similar question. How do African Americans assimilate into mainstream American culture? Are they accepted?
It was a beautiful cross-cultural exchange, eye opening for all present.
See the photo here.
February 1, 2019
Grantee Partner Spotlight: Leshma
Leshma works with mechinot (pre-army academies) throughout Israel to address gender and leadership with students and officers. They begin the teaching component of the program with an intensive introductory seminar that opens their eyes to gender issues, including behavioral norms at the mechinot as they relate to identity, sex, and gender. Everything from forms of address, language, relationships, dormitory life, community living, sexual identity, clothing, gendered roles, and official positions are discussed. These conversations are all co-ed, so men and women work together to address the issues.
Shira, an 18 year-old student from Tel Aviv, said the following during a conversation about norms of dress at the mechina: "I want them to trust us to dress the way we find appropriate, without anyone commenting that my clothing is too revealing or too modest. I'm sick and tired of the fact that they make these comments only to girls – that they look only at us, at how we dress. Dress is a form of personal expression. Stop bothering us about how long our pants are and how low the neckline is. It's an invasion of private space."
January 2, 2019
Grantee Partner Spotlight: jGirls Magazine
This year has been an exciting and productive one for jGirls Magazine, which is an online magazine produced by and for Jewish teenage girls. Our funding allows jGirls to run a robust editorial board leadership program.
Seven of last year's editors graduated high school, signaling the end of their terms at jGirls. The board is currently composed of 7 returning and 9 new editors, who are diverse in Jewish practice, sexual orientation, geography, ethnicity, and interests.
Instead of going on and on about all of the exciting new initiatives happening at jGirls (there are a LOT), I want to share this quote from a jGirls editor and invite you to visit www.jgirlsmagazine.org to see for yourself:
"There are things that we experience every day and we think that we are the only ones. We think that there is no one to turn to but in reality, we just haven't found them yet. Almost every Jewish teen girl in America will go through similar situations and will be able to give advice and lift up other girls. jGirls Magazine gives these girls that outlet to find their people and find the ones that will confirm that they are TRULY not alone. That somewhere in this world, someone DOES care about you, and someone does understand." -Sammi Reyes, age 16
November 16, 2018
It's hard to believe it's been two years since our site visit trip to Israel! We can hardly wait until October 2019, when we will return. In the meantime, we'll settle for pita and falafel in Atlanta, while we reminisce about our last trip and brainstorm about the next one. Will you join us?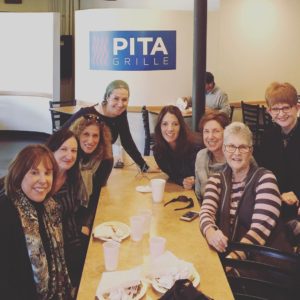 November 13, 2018
The Zaban-Paradies Center is the only shelter in Atlanta for homeless couples. In advance of Thanksgiving, JWFA Trustees and friends rolled up their sleeves and spent the morning making lunches for the Center's residents, then taking a tour of the facility.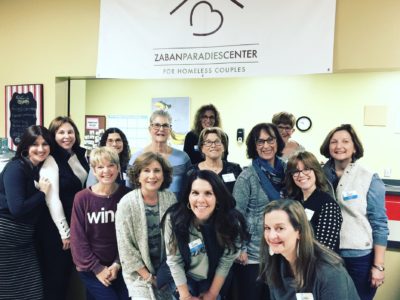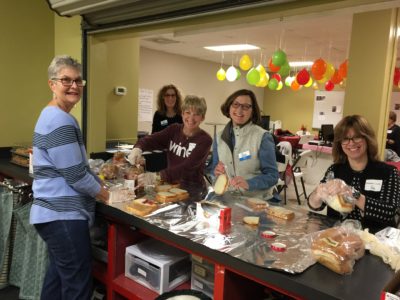 October 30, 2018
This is the first year that JWFA has allocated a grant to JobKatif's Achotenu program, and the results are already amazing! JobKatif empowers Ethiopian-Israelis to follow their aspirations of becoming nurses by providing tutoring, living subsidies, and group support.
As a young child, D journeyed across the Sudan with her family, dreaming of making aliyah to Jerusalem. Along the way, her mother decided to separate D from the rest of the family, thinking that this way she would have a better chance of surviving the arduous trek. D remembers the heart wrenching feeling of being torn from her mother. She joined another family, who fed her meager scraps through the reminder of the trip. Eventually she was reunited with her family and they made it to Jerusalem. D recalls beginning school in Israel and holding a pencil for the first time in her life. She was the only non-White person in her class.
Fast forward 20 years. D graduated high school, got married, had children, and worked as a nurse's aide but dreamed of becoming a nurse. D applied to JobKatif, doing her homework alongside her children who were doing theirs. Today D is employed as a nurse and encourages her children to succeed in school, so that they too many follow their dreams.
"The best thing about Achotenu is the community. I know that I can always call someone for help, and sometimes people call me. We are all there for each other."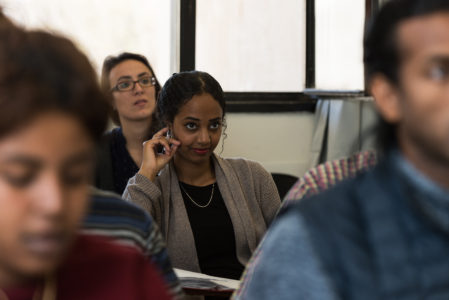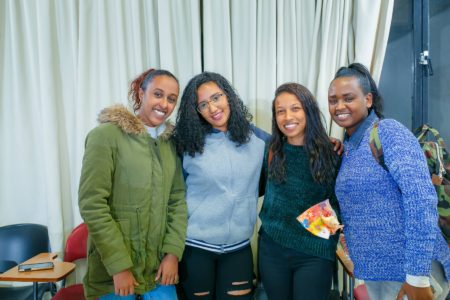 October 11, 2018
Part of our mission statement is "creating positive opportunities for Jewish women and girls," and this year we have been finding more and more ways to engage Jewish women throughout Atlanta in our work. October 11th was International Day of the Girl, and we honored the day by hosting a facilitated book discussion of "The Female Persuasion" by Meg Wolitzer. It was very meaningful to sit in a room of women, many of whom had never met before that day, and have passionate discussions about feminism and sisterhood. 
Do you have a suggestion for a book for a future book discussion? Let us know! 
September 26, 2018
We are always proud of our Grantee Partners. They are on the ground every day doing important work to facilitate social change for Jewish women and girls. Recently, several of our Grantee Partners were honored with a well-deserved distinguished award, and we can't stop kvelling! 
The prestigious Genesis Prize, known as the "Jewish Nobel Prize" was presented by Justice Ruth Bader Ginsburg to thirty-seven Israeli women's rights organizations serving women from all of Israel's ethnic and religious groups, including JWFA Grantee Partners: Center for Women's Justice, Wepower, and Van Leer Institute. Read all about the award here. 
Click here for a complete list of award winners, including our very own Grantee Partners. 
September 21, 2018
Last week a room full of JWFA Trustees gathered for the first quarterly Trustee Board Meeting of our 2018-2019 year. We were delighted to hear from two amazing guest speakers, representing two of our Grantee Partners. First, Dr. Mazal Shaul, Executive Director of WEPOWER, spoke to us about the upcoming election and what WEPOWER is doing to prepare female candidates for success. A record number of women are running for mayor in Israel, including Mazal herself! We are so proud to support WEPOWER as they increase the number of women in Israeli politics. Click here to view the entire interview with Mazal.
Next, we were thrilled to meet with Rabba Melissa Scholten-Gutierrez, a recent graduate of Yeshivat Maharat, and an even more recent transplant to Atlanta! Rabba Melissa provided us with insight into the leadership curriculum that JWFA has supported for the last three years. Additionally, she answered a number of questions about what it means to be female Orthodox clergy. The entire speech can be viewed on our Facebook page. 
September 18, 2018
Thank you to the Atlanta Jewish Times for this great article about our recent program with Dr. Alexis!
September 17, 2018
A Rosh Hashana Message
As Jews, this time of year is all about new beginnings. For those of us with school-aged children, the past month has been a series of new beginnings: a new school year, new teachers, new school supplies, new schedules, and new expectations. For those of us celebrating the High Holidays, we make new promises to ourselves and to God, we begin a new cycle of the Torah readings, and we begin a new Jewish year. For all of us, we begin a new season. The mornings are becoming crisper, the air becomes less thick with that sticky Atlanta humidity, and we can start to see the signs of fall coming soon. It seems difficult to navigate the early weeks of September without feeling this newness all around us.
New beginnings can be scary, and yet at the same time they hold the promise of something better. We spend each Rosh Hashanah and Yom Kippur striving to be better than we were the year before. We commit to making changes in our lives, and whether those changes are spiritual or interpersonal in nature, they come with risks. Fear of the unknown, fear of change, and fear of new beginnings are natural human emotions. And yet, while a new beginning may be accompanied by fear, it also brings the possibility of great success.
For the Jewish Women's Fund of Atlanta, new beginnings, change, and risk are at the heart of our work. Jewish Women's Fund of Atlanta promotes social change and expands positive opportunities for Jewish women and girls. Each year, we allocate grants to organizations and programs that align with our mission. Over the years, we have supported many pilot programs, and while the risk of a new project can be scary, it also holds the possibility of great positive change for our community.
This year, Jewish Women's Fund of Atlanta has made grants to allow several pilot programs to launch right here in Atlanta. Atlanta Jewish Academy's Women in STEM Career Fair Initiative will increase access to and interest in careers in STEM for Jewish women and includes a one-day career fair with year-round mentoring opportunities for female high school students in Greater Atlanta. Jump Spark (formerly known as the Atlanta Jewish Teen Initiative) is launching Strong Women: Know Them, Be Them. This pilot program will connect female Jewish high school students with strong female role models across a spectrum of business, medicine, art, and law through days of learning, community mentorship, and empowerment. TrueChild, a national organization dedicated to challenging rigid gender norms, will work in partnership with JF&CS to launch JET: Jewish Girls Empowered Together. JET will teach middle school girls to think critically about gender norms, particularly in having more constructive ideas around female leadership, strength, and self-efficacy. SOJOURN is entering the second year of its two-year pilot program: Early Development of Gender Equity (EDGE), which works with kindergarten and first grade students, teachers, and parents throughout Atlanta's Jewish community to break down gender stereotypes and allow children to reach their highest potential while eliminating gender inequity.
To date, these projects are all still at their beginning stages, and we eagerly anticipate watching how they unfold and hearing about their achievements. Each program has expected outcomes and measures of success, but as with everything new, we know to assume twists and turns will occur along the way. These programs allow the potential for great positive change in our community. As we elevate the voices of young Jewish women, we get a glimpse into a future where girls and women in our community have the same opportunities as boys and men. In order to accomplish this rather lofty goal, we know we must take risks along the way. Though they may be accompanied by anxiety or uncertainty, risks are not inherently bad; but rather, they are really just new beginnings.  
At this time of fresh starts and new beginnings, I want to invite you to engage with Jewish Women's Fund of Atlanta as we change our community for the better. Please contact me at rwasserman@jwfatlanta.org to learn more about how to get involved. L'shana tova u'metuka.
September 1, 2018
New Opportunity for Atlanta Teens
Jewish Women's Fund of Atlanta has a history of supporting pilot programs, particularly in Atlanta. This year, we are proud to allocate a grant to Jump Spark (formerly known as the Atlanta Jewish Teen Initiative) for its Strong Women: Know Them, Be Them fellowship. This year-long, one-of-a-kind cohort will provide female-identifying Jewish high school students in Atlanta with unparalleled access to strong women leaders, thinkers, and voices shaping the world we live in today. Jump Spark has been recruiting speakers and mentors for the program, including Rachel Wallack of VOX Teen Communications, Caroline Rothstein (writer, poet, and performer), Nadia Bilchik, Rabbi Malka Packer-Monroe, and more. Applications for teens are due September 15th, so spread the word!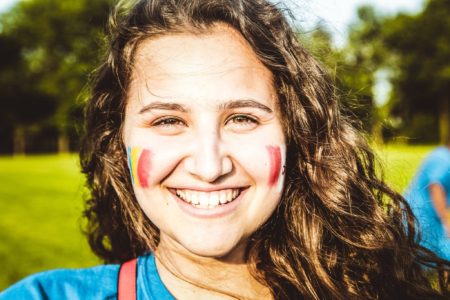 August 29, 2018
"4 Keys to Longevity"
We were so thrilled to have a packed house for "4 Keys to Longevity" with Dr. Alexis Abramson. Dr. Alexis discussed the four areas that women should address if they want to live a long, healthy life: mind, body, social, and financial. With humor, wisdom, stories, videos, and research-based data, Dr. Alexis covered a lot of ground in a very short time. Though the program was targeted to women in the "sandwich generation," the information was applicable to women at any age. 
Many thanks to Dr. Alexis Abramson, Congregation B'Nai Torah, and A Kosher Touch Catering. Thank you as well to our Community Partners: AgeWell Atlanta, a collaborative with Aviv Older Adult Services of JF&CS Atlanta, Jewish Federation of Greater Atlanta, Jewish Home Life Communities, and the Marcus Jewish Community Center of Atlanta – MJCCA; Cong. Beth Jacob Sisterhood; Hadassah Greater Atlanta; Jewish Federation of Greater Atlanta Women's Philanthropy; MACoM – Metro Atlanta Community Mikvah; and Temple Sinai.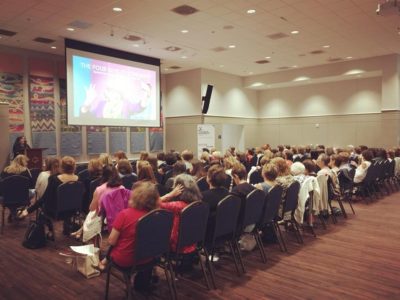 August 22, 2018
Open Hearts for the New Year
On August 22, 2018, Jewish Women's Fund of Atlanta officially launched our newest initiative, "Coffee & Conversation," with a heart-opening yoga class led by JWFA Vice-Chair Andrea Jaron. Part of our mission statement is "creating positive opportunities for Jewish women and girls," and this yoga class was a perfect match for that mission! This time of year – the end of summer, the beginning of a new school year, the approach of the Jewish high holidays – can be a very busy and stressful time for Jewish women. By taking the time for self-care, breathing, and heart-opening stretches and poses, the women who attended are now better-equipped to face the challenges ahead.
We hope you will join us for our next Coffee & Conversation, which will be held on October 11th in honor of International Day of the Girl. We will have a book discussion about Meg Wolitzer's novel, "The Female Persuasion," which will be guided by an expert facilitator. The event is free, and all are welcome!
Join us for coffee, conversation, and a greater understanding of our mission and impact. At Coffee & Conversation, the activity or topic might change, but the goal is always the same: introduce women to our mission of promoting social change and creating positive opportunities for Jewish women and girls. From yoga to book club to guest speakers on important topics, Coffee & Conversation will offer something for everyone!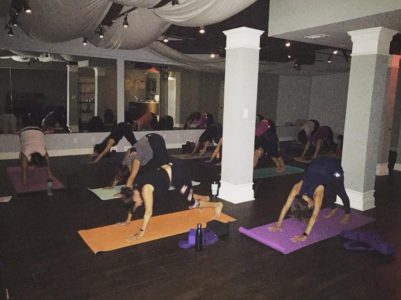 July 23, 2018
A Big Win for ATZUM
In the fall of 2016, a delegation from Jewish Women's Fund of Atlanta visited Israel to visit our Grantee Partners and gain a better understanding of women's and girls' issues in Israeli society. One of the most powerful meetings was the hour we spent with Rabbi Levi Lauer from ATZUM, learning about their task force to end human trafficking and prostitution in Israel. Soon after, ATZUM became a JWFA Grantee Partner. Their work aims to not only protect current victims of trafficking and those forced into prostitution, but also to criminalize the sale of sex and therefore punish traffickers, pimps, and johns.
Since that time, AZTUM has led the way to significant changes within Israel. Following a relentless, decade-long effort, on June 13, 2018, Minister of Justice Ayelet Shaked officially published Israel's government memorandum of law for the Prohibition of Consumption of Prostitution Services. The memorandum, formally confirming the State of Israel's commitment to confront the prostitution industry, finally and decisively defines the consumption of prostitution as an illegal and socially unacceptable act.
"Today we are sending a message that trafficking women and purchasing prostitution services are out of bounds. Using prostitution services is morally wrong, offensive and objectifies women's bodies. There is no reason women in our society should be abandoned." -M.K. Ayelet Shaked
ATZUM was instrumental in this effort. We are proud to support them today and every day as they continue the fight to end human trafficking in Israel.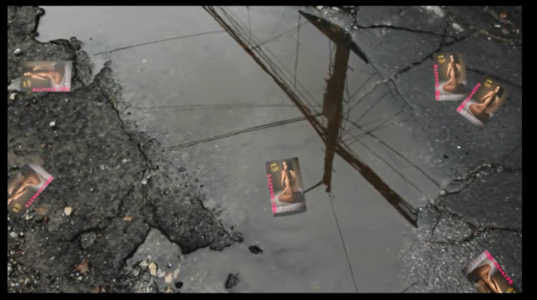 July 1, 2018
An Evening at the Hackathon!
Since much of our work happens in Israel, it is not often that JWFA Trustees get to witness it firsthand. So, when JWFA Founder Ilene Engel and Grants Chair Linda Davis realized they would be in Jerusalem at the same time as the Jerusalem College of Technology LevTech Entrepreneurship Program Hackathon (JCT), they knew it was meant to be! Their visit to this Grantee Partner proved to be inspirational and educational. 
JCT trains 1 our of every 5 female computer science and software engineers in Israel. The student body is Haredi; however, although the students are highly-trained during their time at JCT, the Haredim have traditionally been underrepresented in the hi-tech entrepreneurship ecosystem. This is especially true of women, who tend to work in programming positions where they are recognized for their skills but do not normally work in product development or leadership roles. As a result, the full potential of Haredi women is not reaching the market, and the country is missing out on potentially game-changing ideas. 
Thanks to a grant from Jewish Women's Fund of Atlanta, this year, the new JCT Entrepreneurship Program began operations to provide students with tools and opportunities to innovate. The goal of the Hackathon was to provide a chance for the students to work on products in interdisciplinary teams over a short period (44 hours), and to boost their confidence in this area. One hundred and forty young women were presented with complex challenges by major Israeli medical, financial, technology, and military companies. 
The Hackathon exceeded everyone's expectations. Nursing mothers competed, holding their babies in their labs while programming. A group of first-year students who did not yet know how to program stayed up all night learning how to code and ended up developing a web-based math learning program for children. Nineteen products were developed in only 44 hours! 
The judges were blown away. The energy of the women, their willingness and courage to teach themselves new skills and then compete with them, their commitment to product development…it was all unbelievable! Women even slept on benches in order to have time to complete their projects!
Ilene and Linda had this to say, "With such specialized skills, these women will become important wage earners and leaders in their communities, paving the way for future generations of women. We left the evening feeling incredibly inspired and very proud of Jewish Women's Fund of Atlanta." 
Click here for a brief 2-minute video about the hackathon.