Change the Culture
"As the #MeToo movement has grown and spread across industries and sectors, it has laid bare an inescapable truth: the Jewish community is subject to the same kinds of issues, inequities, and power dynamics that exist in other communities." -Safety Respect Equity Coalition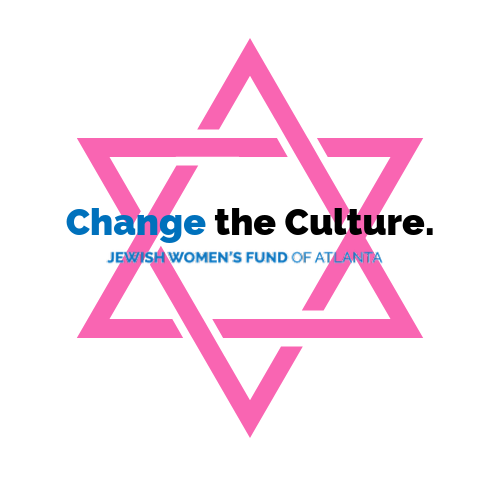 Change the Culture Summit II: The Work Continues; February 28, 2023. Register below.
Join Jewish Women's Fund of Atlanta as we welcome our Grantee Partner, Ta'amod, to Atlanta to continue the work we began at our Change the Culture Summit in 2020 addressing sexual harassment, assault, and discrimination in Atlanta's Jewish workplaces and communal spaces. 
Organizational culture is the #1 predictor overall organizational success.
Organizational culture is also the #1 predictor of harassment.
Ta'amod helps Jewish organizations and the professionals working in those spaces, exist in alignment with our community's professed values. Our training equips organizations with frameworks and concrete tools to proactively construct the environment you wish to see in your work and communal spaces, beyond simply responding and reacting to issues when they arise.
Throughout the day, Ta'amod professionals will train different audiences. We invite you to attend any and all sessions based on the many hats you may wear:
9 am – 1 pm @ The Temple: Training for Jewish communal professionals and lay leaders (includes breakfast and snacks)
Join Ta'amod senior leadership team, Nicole Nevarez, CEO and Dr. Andrea Jacobs, CPO, for a morning of learning and active training. We will briefly explore the foundations of organizational wellness and safety, and then dive into skill building with a focus on:
Active Bystander Intervention
This session focuses on how participants can take appropriate action when witnessing incidents of rudeness, bullying or harassment. Grounded in research and Jewish concepts like Hineini, (to be fully aware and present) Ta'amod presents a comprehensive examination of an outline for bystander intervention. Through a series of exercises and discussions, participants explore the phenomenon of bystander non-intervention by: learning what active bystander intervention is (and is not), examining 4 different strategies for interventions, and reviewing factors to consider when deciding whether and/or how to take action.
5 – 6 pm @ Or Hadash Tea with Ta'amod: Special Session for JWFA Trustees
Supporting the Jewish community to create cultures of gender equity and inclusion is a place where the missions of Ta'amod and Jewish Women's Fund of Atlanta overlap. As leaders in the Atlanta Jewish community, we know that you bring a gender lens to the work you do as philanthropists, lay leaders and professionals. We also know that leading change work as women means that we sometimes encounter gender bias in the very places where we are trying to create and support change. Join Ta'amod CEO, Nicole Nevarez and CPO, Dr. Andrea Jacobs, for a facilitated conversation about how the subtle and not-so-subtle ways that gender bias can impede our work towards creating healthy, inclusive organizational and community cultures and explore how we can be empowered by our gender lens in our various community roles.
FOR TEAMS:
If your organization sends at least 1 professional and 1 lay leader to the summit, you are invited to join us for a bonus zoom session on March 28th at 12 pm EST. During this 90-minute follow-up session, facilitated again by Nicole & Andrea, we will unpack our learning from our time together in February and have an opportunity to share the successes and challenges of implementing this critical work.
History of JWFA's Change the Culture Work
Since 2018, Jewish communities have begun engaging in a systematic effort to address sexual harassment, sexism, and gender discrimination in our workplaces and communal spaces. This includes congregations, day schools, and community-based nonprofits. National organizations and coalitions – such as the SRE Network – have been founded to guide this work, and a special emphasis is being placed on the ethical – not only the legal – standards that we as Jews owe to each other.
Now it is Atlanta's turn.
Jewish Women's Fund of Atlanta (JWFA) promotes social change and creates positive opportunities for Jewish women and girls. Since 2012, we have tackled gender inequality throughout our Jewish community. We are uniquely positioned to spearhead the Safety, Respect, Equity effort in Atlanta and are proud to spearhead the Change the Culture Initiative to address these issues locally.
In February 2020, leaders from throughout Jewish Atlanta gathered for the Change the Culture Summit to learn from experts from the Safety, Respect, and Equity Coalition and Ta'amod. Participants were encouraged to engage their organizations in follow-up conversations and training to dive deeper into these issues. In June 2020, we hosted a film screening and panel discussion of NEVERTHELESS, a documentary about gender-based harassment, discrimination, and assault in the workplace. Our esteemed panel of experts, led by moderator Cynthia Good, examined the film and ways in which we all must engage to create safe, more respectful workplaces. Educational guides and resources are also available from the filmmaker.
In our 2021-2022 grant cycle, we decided to allocate grants to JWI, Ta'amod, and Women's Rabbinic Network to address gender-based harassment and discrimination in Jewish workplaces and communal spaces on a more intensive level. We are inspired by the work of these organizations and feel strongly that their programming will enhance the Change the Culture Initiative and create a significant result for Atlanta's Jewish community. 
Register here for the February 28, 2023 trainings: