ACT: Agents of Change Training
Jewish Women's Fund of Atlanta's Agents of Change Training program (ACT) builds the capacity of women in Atlanta's Jewish community to become agents of change, developing their skills through exclusive, interactive seminars led by accomplished leaders, activists, and influencers, and providing networking and mentoring opportunities designed to foster a sense of growth personally, professionally, and communally.
"Be the change you wish to see in the world!" -Ghandi
This familiar quote serves up powerful inspiration, but the question remains – How exactly do you "become the change?"
Jewish Women's Fund of Atlanta (JWFA) promotes social change and expands positive opportunities for Jewish women and girls. JWFA's ACT program builds the capacity of women in Atlanta's Jewish community to become agents of change, developing their skills through exclusive, interactive seminars led by accomplished leaders, activists, and influencers, and providing networking and mentoring opportunities designed to foster a sense of growth personally, professionally and communally.
Meet the Second Class of ACTivists: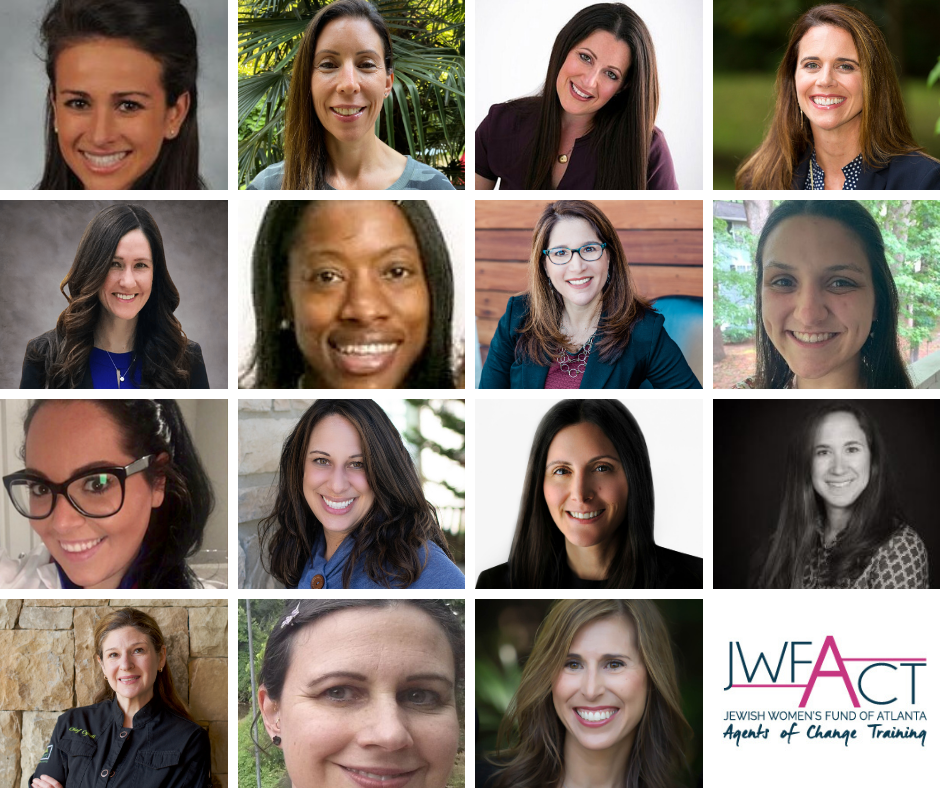 Kimberly Berry: Kimberly has lived in the Atlanta metro area for most of her life and is a graduate of the University of Georgia and Vanderbilt University School of Law. She practices criminal defense law throughout the state of Georgia and is a partner in Lawson & Berry. Kimberly resides in Sandy Springs with her husband, Brett, and three young children and is a member of Congregation Beth Shalom.
Diana Cohen: Diana grew up in the New York and D.C. areas, but has called Atlanta home for over 15 years. She graduated from Duke University, received her J.D. from Yale Law School, and is the Director of Brand and Content for Applerouth Tutoring. She lives in Toco Hills with her husband and three sons and is active in the community, serving on the Boards of Congregation Ohr HaTorah and Temima: The Richard and Jean Katz High School for Girls.
Justine Cohen: Justine was born in South Africa and moved to the US when she was three. She graduated from the University of Texas at Austin and earned her CPA. Justine currently serves on the Epstein School Board of Trustees, the steering committee of JNF-Women for Israel and the Board of Am Yisrael Chai. She is co-chairing O/Art in the City for ORT and JF&CS's The Tasting event. She also recently served as the volunteer committee co-chair for the 2019 Atlanta JCC Maccabi Games and is a Frank Mission graduate. Justine lives in Sandy Springs with her husband, Andre, and their three children.
Jill Silberstein Cohen: Jill is a graduate of the University of Georgia Grady School of Journalism and has spent over 20 years in the hospitality industry, most recently as a senior meeting & event manager for Cox Enterprises. She is a Broadway and musical theater superfan as well as an avid Atlanta Braves supporter. Jill is an Atlanta native and lives with her husband, two teenage sons, and two dogs in Johns Creek.
Elana Frank: Elana has 20 years of experience working with non-profits (Jewish Community Relations Council of NY, Kfar Hassidim Youth Villiage in Israel, and most notably the Jewish Fertility Foundation). After experiencing the pain and loneliness of infertility and realizing how lucky she was to have had her experience in Israel, where it's free, she had a desire to help others. With the realization that cost, education, and access were tremendous stumbling blocks for this "unspoken" issue in the Jewish community, she rallied people behind her and created the Jewish Fertility Foundation. Elana lives in Toco Hills with her husband and three boys.
Shannen Levin: Shannen is a Georgia transplant, born and raised in Scottsdale, Arizona. She attended college at Hobart and William Smith Colleges in Geneva, New York, later moving to Boston for law school. She is an attorney with Fidelity National Law Group in Atlanta and resides in Sandy Springs with her husband Zach and their two children.
Shari Magnus: Shari is the Co-Executive Director of Christians United for Israel (CUFI). Before CUFI, Shari worked at the Embassy of Israel in Washington, DC and AIPAC. Shari lives in Dunwoody with her husband Eric, tweens Aidan and Layla and 3 pups. Shari's side passion project is her jewelry company Layla Designs and she loves practicing yoga and riding her Peloton.
Erin Pirkle: Erin is an Atlanta native and serves as the Young Adults Director at the MJCCA. She has years of experience working in Jewish camping, museums, nonprofits, and youth programming and development. Erin holds a master's degree in experiential education and Jewish cultural arts from George Washington University and a bachelor's degree in history and English-creative writing from Agnes Scott College. In her spare time, Erin loves to bake, explore local restaurants, go hiking with her labrador retriever Zelda, and cheer for her favorite Atlanta sports teams.
Carrie Poline: Dr. Carrie Poline is a double-board certified practitioner in child & adolescent and adult psychiatry specializing in eating, anxiety, mood and child behavioral disorders. She is currently spending most of her professional time in private practice in Sandy Springs as well as serving as the supervising psychiatrist at The Renfrew Center for Atlanta. Dr. Poline is an adjunct faculty member of Emory University's Department of Child & Adolescent Psychiatry and is on the advisory boards of EDIN and Skyland Trail. She is a graduate of Washington University in St. Louis, after which, she worked as a research assistant at Harvard Medical School before attending Nova Southeastern College of Osteopathic Medicine in Florida and completing her post-graduate training at Albert Einstein College of Medicine/Long Island Jewish Medical Center. Dr. Poline was presented with the inaugural award of "Exceptional Women in Medicine" in 2017 and recognized as a "Top Docs of Atlanta" in 2017-2020. She lives in Sandy Springs with her husband, two daughters and her labradoodle.
Libby Pollock: Libby is passionate about empowering women and currently leads global transformational change initiatives for Habitat for Humanity International. She is also the Chair of the Board of Directors of the Jeannette Rankin Foundation, an organization that provides scholarships to low income women over the age of 35. Libby is an active member at Temple Emanu-El and has been an active member of their Caring Committee for over a decade. She also serves as a mentor for the Mary Hall Freedom House. Libby graduated from Indiana University with a B.A. in Economics, and is a dedicated wife and mother to two children.
Victoria Raggs: Victoria Raggs grew up in Denver, Colorado. She is a DEIJ (Diversity, Equity, Inclusion & Justice) Consultant, and Disability Rights advocate. Currently she's working on a project with Be'Chol Lashon. Victoria sits on the American Jewish Committee's Board of Counselors, and is a Co-chair of the Black and Jewish Coalition of Atlanta. She also participates as a Core Leader with Bend the Arc, Atlanta. For 18 years, the mother of four, has been on numerous committees and associations at Jewish Day Schools such as The Atlanta Jewish Academy, The Epstein School, and The Weber Jewish High School. She holds a BA from the University of Illinois, Champaign-Urbana, and studied for a Masters in Education Administration at Virginia Tech University.
Gily Raz: Dr. Gily Raz is a young Israeli physician with a passion for child and adolescent medicine. During the Pandemic, she has worked with the CDC as a frontline worker in Covid clinics for the homeless, battered women's shelters and the uninsured. She integrates her knowledge of medicine with Jewish values to help bring up the next generation of Jewish youth. Dr. Raz also enjoys working as a volunteer in Atlanta's Jewish community, serving as a mentor for the Israeli American Council Eitanim program, and as a special education specialist for Congregation B'nai Torah.
Brooke Rosenthal: A native of Los Angeles, Brooke has lived in Atlanta for the past 12 years, raising her four children with her husband, Laurence Rosenthal, a rabbi at Ahavath Achim Synagogue. In addition to her extensive work at Ahavath Achim, she has volunteered with a myriad of organizations including The Breman Museum, Trees Atlanta, National Council of Jewish Women, Second Helpings, Atlanta Jewish Academy and Camp Ramah Darom. Brooke has a Masters in non-profit management and recently became certified as a Grounded Kids Yoga instructor.
Cyndi Sterne: Cyndi grew up in Cincinnati and moved to Atlanta after graduating from Indiana University. After the birth of her sons, she worked at the Marcus Jewish Community Center as the director of Youth and Family programs, curating exhibits at the Sophie Hirsch Srochi Jewish Discovery Museum and creating the template for what is now The Henry and Etta Raye Hirsch Culinary Arts Studio. In 2010, she left the MJCCA to create Yes, Chef! Culinary Events, a cooking school specializing in hands- on corporate team building and private events. Her business quickly became a favorite of local companies like Spanx, Randstad, The Home Depot, and guest chefs from across the U.S., Israel and Italy. Cyndi is also an active member of the Steering Committee for Jewish National Fund's Women for Israel. The majority of her spare time is spent sewing, cycling, and making sure her sons and husband are well fed and her dogs get belly rubs.
Carrie Turner: A Miami native, Carrie is a graduate of Cornell University and founder of her own recruiting/executive search business, Socium Group. She has been in Atlanta for 13 years after relocating to the area from Chicago. Carrie is actively engaged with Congregation Dor Tamid where she just completed their leadership training program and serves on the ritual committee. She lives in Alpharetta with her husband, three children and two big goldendoodles.
Meet the First Class of ACTivists: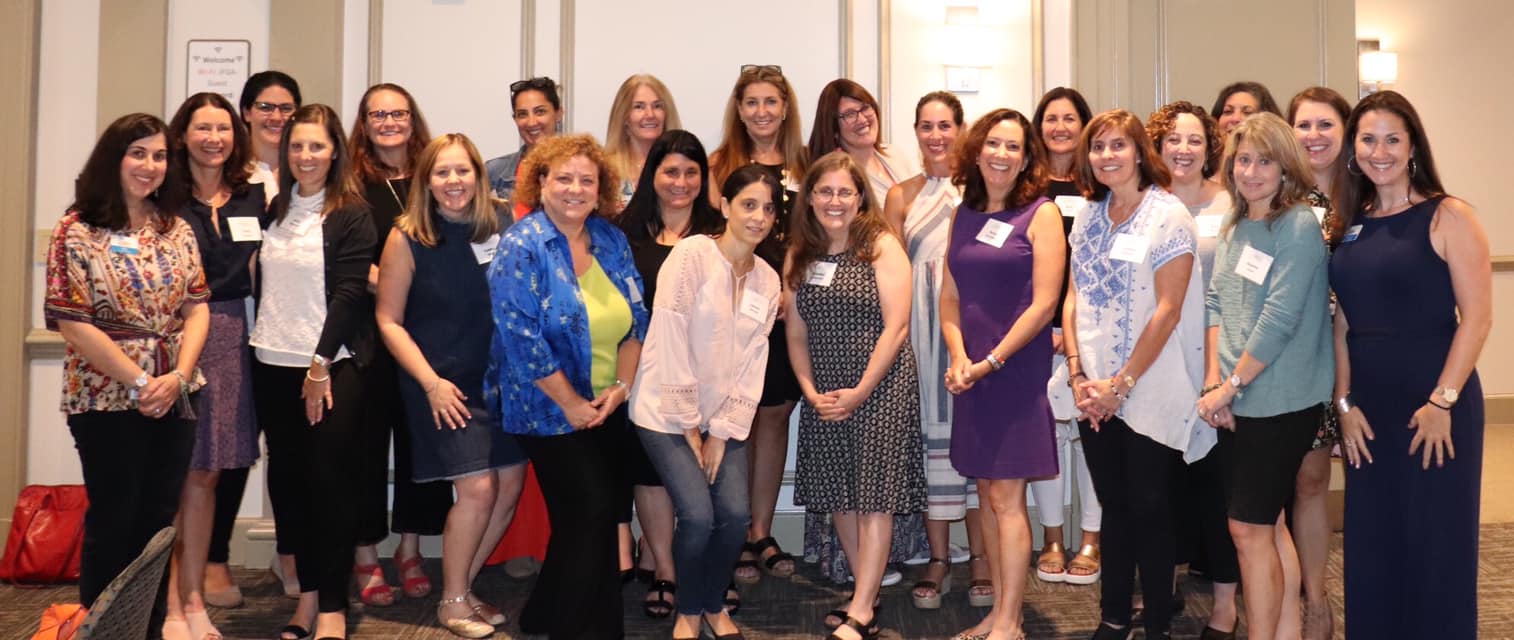 Amy Fox lives in Sandy Springs with her husband, Chuck, and their 17-year-old twins, Ben and Sydney. She recently served as Administration Co-Chair for the 2019 Atlanta JCC Maccabi Games, overseeing volunteer efforts. Amy is Co-Chair of Jewish Federation's Women's Philanthropy Lion's Division and is a Wexner Heritage Fellow. She serves on the Executive Committee of the Tulane Fund Advisory Board. Formerly, she was Advancement Committee Chair, Executive Committee member, and Trustee at The Epstein School. Prior to moving to Atlanta, Amy worked in major gift fundraising for educational organizations. In her free time, she enjoys tennis, family vacations, and watching her son play baseball. She feels ACT has the potential to create and strengthen bonds amongst members of the Atlanta Jewish community.
Andi Neiman has worked in public health, with a focus on global chronic disease prevention, for over 17 years. As a wife, a mother, and compassion crusader she is passionate about empowering all bodies to feel centered and strong. Andi is most excited to be a part of the ACT pilot cohort for the opportunity to learn with and from talented and diverse women across Atlanta while collectively working to harness and leverage the group's unique skills to positively and meaningfully impact our community.
Beth Sherman is passionate about promoting literacy, both in her own communities and in low-income communities. Beth teaches second grade at The Galloway School and organizes free book fairs in low-income communities, in partnership with Creating Connected Communities. Prior to teaching, she enjoyed a 12-year sales career with NCR Corporation, then stayed home for 12 years to raise two children. She re-entered the workforce by joining Teach For America and served in high-needs classrooms for two years. She is thrilled to work alongside other women so that they can advise, encourage, and inspire one another along our journeys toward meaningful change.
Caren Cohen is a mother, wife, yoga teacher and friend. She is always encouraging her students, children and friends to push themselves outside their comfort zones. With ACT, Caren is hoping to push herself out of her comfort zone. She is most excited to learn more about the community she lives in and then create positive change within that community.
Eve Wexler grew up in Birmingham, Alabama, before attending college at Brandeis University and medical school at Tulane School of Medicine. She met her husband while in residency at Mt. Sinai in NYC and relocated to the Atlanta area six years ago, where she is the owner of Briarvista Pediatrics and lives in Toco Hills with her family. She is very excited about the chance to meet other rising leaders in the ACT program and cannot wait to see how each participant chooses to become more involved in our community.
Felicia Marable has lived in Atlanta most of her life, attended elementary school at the Hebrew Academy, participated in BBG throughout high school and was an active member of Congregation Or VeShalom. After college, she worked in PR and Marketing for the Atlanta Braves, and later, for Lockheed Martin Corp. She is the mother of two sons and has recently received her Certificate in Gerontology from Kennesaw State University. She now works with Jewish Home Life Communities, helping older adults find affordable housing. Through ACT, she hopes to set an example and encourage more women to get involved and take responsibility in the community.
Gabrielle (Gabby) Leon Spatt is the Executive Director of The Blue Dove Foundation and holds several volunteer roles, including the American Jewish Committee Atlanta Region board member, Atlanta Jewish Film Festival board member and a Phi Mu Fraternity volunteer. Gabby is an Atlanta Jewish Times 40 under 40 honoree. She believes ACT is creating a unique spot for women in the Atlanta Jewish Community. Gabby looks forward to seeing the intergenerational group of women from the first ACT class come together to learn from one-another and challenge the Atlanta Jewish community to think differently.
Hannah Spinrad is the Atlanta Director of Community Engagement for Honeymoon Israel. Before joining the HMI team, Hannah worked for the Jewish Federations of Boston, Miami, and Atlanta. Hannah graduated from UNC-Chapel Hill with a B.A. in International Studies and earned her MBA and MA in Jewish Professional Leadership from Brandeis University. She lives with her husband (Kyle), daughter (Miri) and dog (Gus) on the Westside. Hannah is so excited to expand her network and learn with with the women of ACT and is passionate about building inclusive Jewish communities in the South.
Jan Jay was born and raised in Dayton, Ohio, and has lived in Atlanta for 32 years, since graduating from Indiana University. She married her husband Gregory in 2001 and has three wonderful children, Jared, 16, Rachel, 14 and golden retriever, Emma, 8. In her free time, she enjoys crafting, hiking, photography and volunteering with the Jewish Abilities Alliance, Second Helpings Atlanta and other local and national charities. She is looking forward to learning from other women and forging new relationships with those participating in the first ACT cohort.
Jennifer Mosbacher is a small business owner who is on a mission to discover her passion project. When she was 19, she met her husband on a trip to Israel. The couple has been married for 21 years and are the parents of a 12-year-old daughter. Jennifer hopes that through the ACT program, she will make connections and find inspiration that puts her on a path to increased activism in the Atlanta community and her ultimate goal of starting a foundation.
Joanna Israel lives in Dunwoody and is the mom of two tweens – Josh and Maya. Joanna has volunteered for several organizations in the Jewish community including Davis Academy Congregation B'nai Torah. She is also a marketing professional and a certified yoga teacher. One of the things that excites Joanna the most about the ACT program is the ability to help mold the program and shape what it will be about for future classes.
Julie Mokotoff is a former Communications Consultant and graduate of Emory University. Julie lives in Atlanta with her husband and three children, ages 18, 15 and 11. She currently serves as co-chair of Temple Emanu-El's Social Justice Committee and co-chair for the American Jewish Committee's Leaders for Tomorrow Program. An aspiring novelist, she completed her first manuscript and is seeking literary representation. With regard to the ACT Program, Julie is most excited about developing and mentoring the next generation of female leaders.
Lauren Derman Sturisky was born in South Africa, and has lived in Atlanta for the better part of fifteen years. She is an attorney specializing in Alternative Dispute Resolution, with an emphasis on child-related matters. Lauren is a mother of three boys, a wife, and an evolving activist. The issues closest to her heart involve anti-semitism, anti-zionism, and racism. She is thrilled to be participating in the ACT pilot program, and her hope is that the program provides a communal set of tools that grows each participant's ability to create change.
Leslie Reitman is originally from Boston, MA and has lived in the Atlanta area for 17 years. Prior to raising three children and participating in a variety of pro bono projects, she worked full time as a financial professional and continues to consult with companies and individuals on a part time basis regarding financial and marketing matters. She also enjoys photography and painting. With respect to ACT, she is most excited to help make a difference in the lives of women and girls in the surrounding area and believes that incremental differences can eventually create a large, positive impact on those directly effected as well as the community at large.
Dr. Lynn Bahr is a graduate of the University of Georgia, College of Veterinary Medicine and is the CEO of Dezi & Roo, a company that designs, manufactures and sells solution-based pet products that enhance the lives of cats their owners. Dr. Bahr was the recipient of the 2018 Pet Age Woman of Influence Award and serves on the Board of Directors of Pandemonium Aviaries, Fear Free Advisory Board, Parliamentarian of the Society of Veterinary Medical Ethics, and is on the Cat Committee of the Pet Professional Guild. Having the opportunity to participate in ACT's pilot program is an exciting new venture that she feels will have a positive impact on our community at large. She hopes to gain insight on ways to improve the world while collaborating with other like-minded women and become a real force of change.
Melissa Kaplan currently serves as the Development Officer at Jewish Home Life Communities (JHLC). She lives in Buckhead with her husband, Jake, and her two young sons, Sam (4) and Eli (1). Melissa is very excited to be selected for ACT and is looking forward to getting to know and learning from the other women involved.
Rabba Melissa Scholten-Gutierrez combines her personal, professional, and educational experiences to establish meaningful Jewish experiences wherever she goes. Melissa currently manages the Jewish Camp Initiative for the Jewish Federation of Greater Atlanta and serves on the Clergy Advisory Group for MACoM (Metro Atlanta Community Mikvah) and the Leadership Team for Limmud Southeast. She received semikha (rabbinic ordination) from Yeshivat Maharat and is a member of the Atlanta Rabbinic Association (ARA), Torat Chayim, and the International Rabbinic Fellowship (IRF). Melissa is excited to learn with and from fellow Atlanta Jewish activists while finding opportunities to enact change for women locally.
Sheryl Lyss is a physician who has been working in public heath for 20 years. She has recently returned to Atlanta after being overseas for four years, and welcomes the opportunity to become more engaged in the Atlanta community through ACT. As a member of the inaugural ACT class, she is excited to share a journey with a group of committed women who will challenge and inspire one another to each make a mark, collectively and individually, on the community around us.
Susie Greenberg has resided in Atlanta since 1994. Prior to leaving the workforce to raise her children, she worked professionally as a commercial litigator. She and her husband Marc are the parents of four children (Ben, Jake, Sarah and Rebecca), ages 21- 26. As a community volunteer she has focused on issues involving children, education and human rights. Through ACT, Susie hopes to meet like-minded women, elevate the quality of her volunteerism and learn from other community leaders.
Tracy Rosenbluth Howard has spent her entire professional career in finance, starting with Corporate Banking and including Venture Capital and Investment Banking services for both public and private companies. Tracy holds a M.B.A from The Wharton School of The University of Pennsylvania and a B.B.A. from Emory University. She enjoys being active and spending time with her husband and their two teenage children. Tracy is extremely excited to be a part of the inaugural ACT program and hopes to form meaningful and lasting relationships with other members while using the group's collective strengths to effect change.
Be sure to follow their journey on our blog and Facebook page! Want to know more about ACT? Contact Dina at 678-222-3726.
What is ACT?
This is your chance to participate in an innovative leadership and advocacy program presented from a uniquely Jewish, female perspective.
The pilot class of ACT will launch in fall 2019 and run through spring 2020. Two-hour sessions will be conducted in various locations around Atlanta and will cover a variety of topics, including female leadership in the #metoo era and the power of collective activism. Participants will also be invited to various JWFA programs, meetings, and social gatherings.
The 2019-2020 application period has now closed. Please stay tuned for updates and announcements coming soon.
ACT is open to all women in the Jewish community 25+, regardless of their previous involvement or leadership experience.