Upcoming Events
Jewish Women's Fund of Atlanta education and advocacy efforts broaden the scope of our work and complement our portfolio of grants. By using a Jewish and gender lens to delve into topics such as addiction, poverty, caregiving, and financial literacy, JWFA elevates Jewish women's and girls' issues to the forefront of the conversation. JWFA works strategically with local partners to host periodic seminars and discussions on relevant and pertinent subjects at hand. We invite you to engage with us by attending events and educational opportunities.
Upcoming Events
---
"Speaking Her Truth." July 28, 2021. Registration coming soon.
A panel of female-identifying faith leaders help us challenge our assumptions about what it means to be a female leader in today's Jewish community. Rabbi Loren Lapidus will moderate this candid discussion with a diverse group of leaders, reflecting on how they harness their own personal experiences to cultivate a renewed sense of understanding and awareness within our ever-evolving community.  
Stay tuned for more information about our panelists. Registration will open this summer. 
---
Join our email list and follow us on Facebook for updates on upcoming events. To view our past events, please visit our recordings page. 
---
Recent Past Events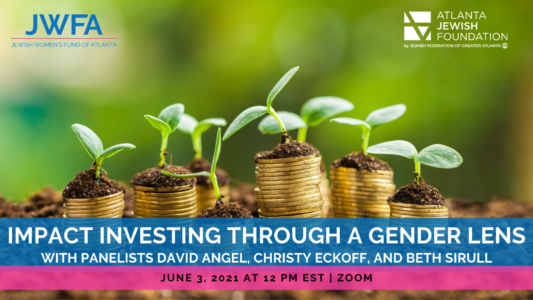 Impact Investing through a Gender Lens. June 3, 2021. 12-1 pm EST on Zoom. 
This webinar, hosted in partnership between Atlanta Jewish Foundation and Jewish Women's Fund of Atlanta, will explore impact investing through a gender lens, beginning with the basics. Impact investments are investments made with the intention to generate positive, measurable social impact alongside a financial return. How can donors and foundations apply a Jewish and gender lens to their investments? Our panelists will address both the WHAT and the HOW of this newer area of finance and philanthropy.
The panel, moderated by Jewish Women's Fund of Atlanta's Executive Director, Rachel Wasserman, includes:
David Angel, Director of Strategic Partnership at Ogen
Christy Eckoff, Chief Foundation Officer at Atlanta Jewish Foundation
Beth Sirull, President and CEO of Jewish Community Foundation of San Diego
Celebrate the Power of Women's Voices! Virtual book launch party. May 20, 2021. Get your copy of the book here.
Jewish Women's Fund of Atlanta is proud to announce the release of our much-anticipated anthology, "2020 Hindsight: A pivotal moment in history, through the eyes of Atlanta's Jewish women and girls."
Join us as we hear from some of the women who shared their personal stories, including bestselling author,
Zoe Fishman
. The program will feature a panel of authors discussing why they felt compelled to participate in the project, the cathartic nature of writing, and how the idea of an anthology developed within JWFA. Panelists include: Zoe Fishman, Victoria Raggs, Jamie Rindsberg, and Rabba Melissa Scholten-Gutierrez.
The book contains essays and poetry from a diverse array of more than 50 women and girls in Atlanta's Jewish community, ranging in age from seven – 90. Each piece provides a glimpse into the triumphs and challenges these women faced during the past 16 months. JWFA is thrilled to give voice to these deeply moving and impactful experiences that are at once unique and familiar.
The book is available for purchase on
Amazon
, and a portion of the proceeds helps JWFA continue our mission to create positive opportunities and promote social change for Jewish women and girls.
---
"Make Your Words Count: The Art of the OpEd." Three-part series: April 6, 13, 20. 1-2 pm EST on Zoom. 
It's true that everyone is entitled to their opinion, but it takes effort and talent to voice your opinion on the written page in a way that compels editors and readers to sit up and take notice. If you've ever felt you had something meaningful to say and wanted to share it publicly, now is your chance to learn how to make that dream a reality.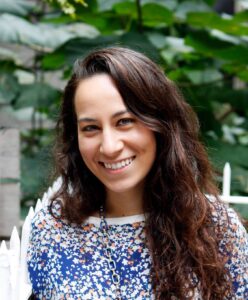 This three-part virtual workshop will teach women the basics of writing an impactful OpEd – choosing your topic of discussion, writing challenges and goals, and working with the media. Each interactive session will be led by Laura Adkins, Opinion Editor for Jewish Telegraphic Agency (JTA) and professor of journalism at Yeshiva University's Stern College for Women.
Space is limited. This workshop will take place via Zoom from 1-2 p.m. on three consecutive Tuesdays in April: 6, 13, 20. The cost is $72 per participant for the general community. Current Jewish Women's Fund of Atlanta Trustees receive a rate of $54. Limited scholarships are available; email us to inquire. 
Laura E. Adkins is Opinion Editor of the Jewish Telegraphic Agency and an adjunct professor of journalism at Yeshiva University. She was previously Deputy Opinion Editor at the Forward, where she wrote about data, orthodoxy, kosher wine, and built interactive maps. Laura has also served as the editor of Jewish Insider and an assistant blogs editor at The Times of Israel. Her writing has appeared in the New York Times, Washington Post, SELF, Glamour and elsewhere.
"Advocacy in Action: An International Women's Day Program." March 8, 2021 on Zoom. 12 pm EST. 
In honor of International Women's Day, we are pleased to bring together three of our Israeli grantee partners for an online, roundtable discussion about their advocacy efforts. Learn how they are working within the legal and governmental systems to create real change on a policy level. Additionally, we are thrilled to welcome Anat Sultan-Dadon, Consul General of Israel to the Southeastern United States, as the moderator of our panel. She will also share her experience as a foreign diplomat during a global pandemic. (Did you know she hasn't been back to Israel in over a year?!) 
Consul General Sultan-Dadon joined the Israeli diplomatic corps in 2004. She has extensive experience working for the Ministry of Foreign Affairs and has held various posts and positions in Israel and abroad. She has held positions at the Israeli embassies in Cameroon, Germany, the Netherlands and most recently in Canberra, Australia. In the Ministry of Foreign Affairs in Jerusalem she has held positions in the Euroasia Division and the Asia-Pacific Division. Consul General Sultan-Dadon has a bachelor's degree in psychology and education from The Hebrew University in Jerusalem as well as a masters in criminology from the same institution. 
The conversation will include representatives from:
Center for Women's Justice – Defends women's rights to equality, dignity, and justice whenever they are compromised in the name of religion.
Mavoi Satum – Works to spearhead long-term, transformational community impact by increasing the presence of women at all levels of the rabbinical court system to bring about equality and a supportive setting for Jewish women denied a divorce.
Women's Spirit – Enables women survivors of violence to overcome professional and occupational barriers, establish economic independence, and regain control of their lives while working to change fundamental Israeli policies and laws that undermine, destabilize, and weaken all women but especially victims of violence.
Pull up a seat at our virtual table and join us to hear more about these important programs and how they are empowering women in Israel and paving the way for a more equitable future.
---
"Caring for the Caregivers: Supporting others without losing sight of your own well-being." December 2, 2020. 12 pm EST on Zoom. No cost. 
The pandemic has laid bare the ongoing struggle many women face as the primary caretaker, both within their household structure and increasingly, to aging family members. Our recent Community Study specifically identified challenges related to the so-called "sandwich generation" – women juggling the needs of elderly parents while simultaneously caring for young children. Join us as we discuss the importance of supporting the needs of caregivers and offer concrete tools and resources that will enable women in a caretaking role to prioritize their own well-being.
Licensed clinical social worker Michelle Goodloe will interview a panel of local Jewish women about their personal experiences with caregiving, while offering practical advice for managing compassion fatigue.
Michelle Goodloe is a licensed clinical social worker and an experienced project manager; dedicated to helping others develop healthy relationships with themselves and with others.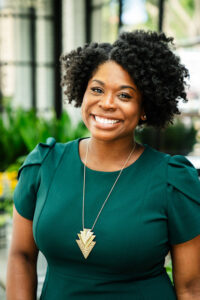 With a professional background in providing clinical interventions, compassion-based services and statewide advocacy for people impacted by domestic violence, child abuse and stress-related conflict, the focus of Michelle's career has been to develop and institute accessible and resourceful avenues of support through her agencies: The Essence of Healing LLC and gmichelle.com.

Michelle is the owner and psychotherapist with The Essence of Healing LLC, a private therapeutic practice based in Atlanta, Georgia. The Essence of Healing LLC provides individual and couples psychotherapy to adult residents of Georgia and Illinois.

She is also the creator of Self Explore, Self Restore, a guided self-care journal, and the host of the wellness-resource website, gmichelle.com. Gmichelle.com offers busy, caring professionals the opportunity to make self-care a practical part of their lives. Michelle facilitates interactive workshops for non-profit and private organizations that experience challenges with addressing self-care, compassion fatigue and professional burn out. 
To learn more about Michelle, check out her blog at gmichelle.com.
---
JWFA Impacts Virtual Celebration 
Thank you for joining our virtual celebration on November 10, 2020! If you missed it, the recording is available here.
We were thrilled to hold our virtual celebration, Jewish Women's Fund of Atlanta Impacts: There's Even More to Us Now, honoring Lisa Haynor on November 10, 2020. While we did not charge for this event, any donation is greatly appreciated and will support our work for gender equality. We are grateful to the generous sponsors of JWFA Impacts!
As we came together virtually to celebrate, we honored and thanked Lisa for her passionate leadership, both as a professional and a volunteer. As a Founding Trustee and past chair of JWFA, Lisa has demonstrated her tireless devotion to women and girls. As a partner at Aprio, Lisa has spent her career going above and beyond for her clients. At the same time, she has held significant leadership roles in many community organizations, including Atlanta Jewish Foundation, The Davis Academy, The Jewish Federations of North America, and Temima, The Richard and Jean Katz High School for Girls.
In addition to celebrating Lisa, we heard from Rebecca Minkoff, founder of the Female Founder Collective, a network of businesses led by women that invests in women's financial power across the socio-economic spectrum by enabling and empowering female-owned businesses. Rebecca, an industry leader in accessible luxury handbags, accessories, footwear, and apparel, is dedicated to bringing women together to enact positive change and hosts the "Superwomen" podcast. Rebecca was be interviewed by Atlanta's own Brittany Tenenbaum from WSB-TV.
---
"Deconstructing the Myths: A Talkback Series." November 12 (7 p.m.), 2020. No cost. Registration link below.
Earlier this year we welcomed special guests Ada Calhoun, Nadia Bilchik, and Dr. Lisa Damour, who spoke about the "Superwoman Complex" and anxieties and stresses women and teen girls face as we try to do it all. The response to this webinar (recording available here) was overwhelming, and many of you reached out to tell us how the topic deeply resonated with you. 
We heard from the experts. Now it is your time to talk!
Through a series of talkback sessions, we will play clips from the original webinar and give you a chance to discuss your experiences. Think of this as book club without the book! Better yet, there's no homework in advance. Whether or not you watched the original webinar, you can join us for 1, 2, or all 3 of these talkback sessions. Register with friends, or use the time to meet new women who have a story to share. 
September 16, 2020 at 12 p.m.: "Redefining What's 'Normal': Stress in Today's World."
October 15, 2020 at 9 a.m.: "Next Generation Woes: How Can We Help Our Teens Better Navigate Stress."
November 12, 2020 at 7 p.m.: "Does Work/Life Balance Really Exist: The Added Stress of Being a Working Woman." 
While we welcome participants personal stories and emotional input, this discussion should not be viewed as therapy or a substitute for guidance from a licensed professional. If you need more personalized counseling or support from a trained clinician, please contact Jewish Family & Career Services at 770-677-9300. 
---
"Rules of Engagement: Maintaining Dignity Amid Political & Pandemic Discord." October 22, 2020. Recording available here. Slides available here.
Have you resorted to unfollowing close friends and family members on social media because you have diametrically opposing viewpoints on key issues?
Have differing ways of dealing with the pandemic driven a wedge in your personal and professional relationships?
Does the constant barrage of divisive rhetoric give you heart palpitations each time you turn on the news?
If you answered yes to any of these questions, this is your chance to tune out the noise and tune in to methods that will help you better navigate today's culture of debate and division.
Now more than ever, opposing viewpoints are leading to discord that threaten to disrupt our relationships with friends, family and colleagues. How can we, as a culture and as women, maintain a narrative of respect and dignity, particularly at a time when most of our dialogue is taking place in the virtual world, rather than in-person? How can we reconcile differences of opinion, engage in difficult conversations, make sense of news and social media, and hold tight to the Jewish imperative to "love thy neighbor as thyself?" As we approach the 2020 election, join us as experts Laura E. Adkins and Rosalind Wiseman discuss these relevant topics.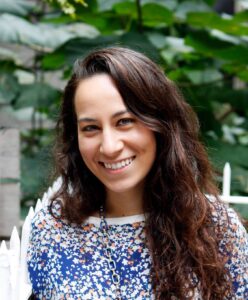 Laura E. Adkins: Opinion Editor of the Jewish Telegraphic Agency and an adjunct professor of journalism at Yeshiva University. She was previously Deputy Opinion Editor at the Forward, where she wrote about data, orthodoxy, kosher wine, and built interactive maps. Laura has also served as the editor of Jewish Insider and an assistant blogs editor at The Times of Israel. Her writing has appeared in the New York Times, Washington Post, SELF, Glamour and elsewhere.
Rosalind Wiseman: From where we learn to where we work, Rosalind Wiseman fosters civil dialogue and inspires communities to build strength, courage and purpose. She is the founder of Cultures of Dignity; an organization that shifts the way communities think about our physical and emotional wellbeing by working in close partnership with the experts of those communities–young people, educators, policy makers, and business and political leaders.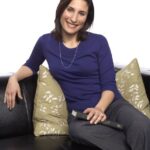 She is the author of two New York Times Best Sellers: Queen Bees and Wannabes: Helping Your Daughter Survive Cliques, Gossip, Boyfriends, and the New Realities of Girl World—the groundbreaking, best-selling book that was the basis for the movie and Broadway Musical Mean Girls, and in 2016 was fully revised for a third edition. And Masterminds & Wingmen: Helping Our Boys Cope with Schoolyard Power, Locker-Room Tests, Girlfriends, and the New Rules of Boy World, which addresses the social lives of boys and was awarded Best Parenting Book by Books for a Better Life in 2014. 
National media regularly depends on Wiseman's expertise on ethical leadership, conflict, media literacy, youth culture, parenting, and bullying prevention. She has been profiled in The New York Times, People, Los Angeles Times, the Chicago Tribune, The Washington Post, and USA Today. Wiseman is a frequent guest on national media like The Today Show, CNN, and NPR affiliates throughout the country.
Wiseman speaks throughout the US and abroad including, South by Southwest, Microsoft, The Royal Society for the Arts, the Association for the Advancement of International Education, the American School Counselors Association, the Game Developers Conference, the American Association of School Administrators, at the White House many times and numerous schools, governments, organizations, and corporations throughout the US and abroad. She lives in Colorado with her husband and two sons.
Women, Money, and Power. Bold Philanthropy in the Age of COVID." August 26, 2020. 12 pm EST on Zoom. 
Why is funding women and girls still crucial, even with everything else going on in the world right now? How can you be bold with your giving and make a statement about your values through philanthropy? Our expert panel will explore these issues and more. Panelists include:
Jamie Allen Black, Chief Executive Officer of the Jewish Women's Foundation, oversees all activities of the Foundation including grantmaking, development, advocacy, and operations. She has shepherded the organization into a new strategic direction – supporting Jewish women social entrepreneurs and leaders who are using a gender and Jewish lens to solve intractable problems facing women and girls throughout the world. She brings more than 25 years of nonprofit leadership experience to the Foundation and has a long history of promoting inclusive, diverse Jewish communities and mentoring lay leaders and professionals in leading through authenticity. In 2015, Jamie co-founded, with Naomi Eisenberger of The Good People Fund, Ta'amod: Stand Up! – the Jewish communal action to create safe respectful workplaces that are ethical and compassionate. Jamie graduated from New York University from which she was awarded the NYU Dean's Alumni Award for Humanitarianism in 2010. She sings in the Community Choir at Central Synagogue and has a not-so-secret life as a voice actor.
Barbara Dobkin: A pioneer in the Jewish community as a donor-activist for programs to empower women and girls, Barbara Dobkin is one of the most visible and committed advocates for social change. She was the Founding Chair of Ma'yan, a program of The JCC in Manhattan, the Jewish Women's Archive in Boston and the Hadassah Foundation. She was a founder of Advancing Women Professionals and the Jewish Community and was board chair of American Jewish World Service. She also served on the boards of The Women's Funding Network, The White House Project, the Women Donors Network and Lilith Magazine.   A frequent speaker on women's philanthropy and leadership, she is a significant supporter of and adviser to a variety of not-for-profits, both Jewish and secular in the U.S. and internationally. Barbara has been recognized by several organizations including the New York Women's Foundation, the Jewish Funders Network and the Council on Foundations for her innovative philanthropic work.
Naomi Eisenberger, Founding Executive Director of The Good People Fund. Naomi assumed her role in 2008 after more than 10 years as the Managing Director of the Ziv Tzedakah Fund. Her diverse background as a high school history teacher, kosher caterer and small business entrepreneur have prepared her well for the many hats she wears as GPF's chief executive. Prior to her work at Ziv, Naomi ran a family retail business for 14 years. For the past thirteen years, she has drawn on her extensive business and non-profit experience to mentor grantees and help them build their own successful organizations. Naomi's involvement in the issue of sexual harassment in the Jewish communal world began in 2016 when grantees shared several incidents of abuse. Today, The Good People Fund partners with the Jewish Women's Foundation of New York to sponsor Ta'amod, which provides training, consultation and resources for the establishment of safe and respectful Jewish workplaces.
Lesley Grady (moderator): Lesley Grady is a Principal with Chrysalis Lab, a premier social equity consulting firm. Lesley is described by her colleagues as a "catalyst," "connector," "synthesizer," and "strategist." Holding an MA in Public Policy and Economic Development, she has provided strategic and visionary leadership for over three decades as a senior executive within major philanthropic and economic development organizations. A highly respected and sought after advisor, Lesley's professional and civic experiences have profoundly equipped her to leverage her capacities, relationships, and passions to establish and sustain authentic connections with a cross-section of diverse leaders to facilitate positive social change. Lesley served in executive leadership at the Community Foundation for Greater Atlanta (CFGA), a $1.3 billion organization, from 2000-2019. As Senior Vice President (SVP), she oversaw a comprehensive community impact strategy for CFGA's more than 1,000 donors; managed CFGA's $18.5 M discretionary grantmaking and scholarship programs; and managed complex, place-based community initiatives. Lesley regularly represented CFGA on local and national philanthropic, civic, and cross-sector boards, among other leadership initiatives including providing testimony before the US Congress Ways and
Means Committee.

Coffee Talk with Dr. Yael Zamir. August 4, 2020 at 9 am EST.
On August 4th at 9:00 AM EST, joined Jewish Fertility Foundation, Jewish Women's Fund of Atlanta, and Embryonics for a Discussion and Q&A with Dr. Yael Zamir.
Hear Dr. Yael Zamir's story of becoming one of the FIRST Female Haredi Doctor in Israel and learn about how she has used her power as a CEO to uplift other young women in STEM and revolutionize fertility treatments.
Yael Gold Zamir is a mother of 4, medical doctor, and CEO of Embryonics, where she and her team develop AI algorithms to improve the process of in vitro fertilization.
"Deconstructing the Myths: Good Girls, Super Women, and our Desire to Have it All." July 29, 2020. 12 pm EST on Zoom. No cost. Recording available here.
Jewish Women's Fund of Atlanta and Brandeis University recently concluded a community study that uncovered critical new details regarding challenges faced by Jewish women and girls – challenges that have no doubt been exacerbated by the tumultuous events of the last few months. One of the most significant findings was the ongoing, inter-generational struggle women and girls face in their quest to "do it all" and maintain a façade of perfection throughout their lives. Join us for a conversation that will delve further into the dangers of this anxiety-inducing phenomenon and uncover ways in which we can begin to enact systemic changes that will address this detrimental trend. Our panel of experts includes:
Dr. Lisa Damour is a bestselling author, CBS News contributor and a practicing psychologist. Her award winning books include Untangled: Guiding Teenage Girls Through the Seven Transitions Into Adulthood and Under Pressure: Confronting the Epidemic of Stress and Anxiety in Girls. She also pens a monthly adolescence column for the New York Times.
Ada Calhoun is the author three books, including the bestseller, Why We Can't Sleep: Women's New Midlife Crisis. As a journalist, her work has appeared in The New York Times, Time, National Geographic Traveler, O:The Oprah Magazine, The New Republic, New York Post, Cosmopolitan and Redbook.
Nadia Bilchik is a former editorial producer at CNN and President of Greater Impact Communication. She is a sought after keynote speaker and has worked in front of the camera for multiple CNN networks and Mnet Television in South Africa.  
A conversation with Jacqueline Novogratz and Pat Mitchell. July 16, 2020. Recording available here. 
Just as Jacqueline Novogratz's groundbreaking new book, Manifesto for a Moral Revolution: Practices to Build a Better World, makes its way to readers, a series of major social and health crises have thrown into sharp relief the gaping wounds of our era, from a broken health system to climate change and skyrocketing inequality and growing divisiveness. Our inadequate systems and institutions are slumping beneath a host of modern crises. Most urgently, moral leaders are proving a scarce commodity. In America and across the world, an anxious public is hungry for clear, conscientious guidance. The stakes are higher than ever.
Please join Jewish Women's Fund of Atlanta for a conversation with Jacqueline and Media Executive Pat Mitchell about the how we might use this moment of extreme uncertainty to reimagine our institutions and enact a moral revolution – a revolution of character, moral imagination, moral courage, and leadership that acts for the benefit of all of us.
Manifesto for a Moral Revolution is currently available for purchase wherever books are sold in the United States. To learn more about the book, upcoming events, and Acumen's online course that accompanies the book, as well as to sign up for Acumen's newsletter, please visit acumen.org/moralrevolution.
Who better to interview Jacqueline than Pat Mitchell, groundbreaking media icon, global advocate for women's rights, and co-founder and curator of TEDWomen? Raised in a small town in Georgia with no money or connections, Pat went on to become a consummate media game-changer. She was the first woman president of PBS and of CNN productions, and also a visionary, award-winning TV and film producer, fully engaged on the front lines of cultural change. 
This conversation is presented by Jewish Women's Fund of Atlanta, in partnership with AJC Atlanta; Jewish Federation of Greater Atlanta Women's Philanthropy; Jewish Women's Foundation of Broward County;  Jewish Women's Foundation of Greater Pittsburgh; Jewish Women's Foundation of New York; Women's Amutot Initiative, Women's Impact Initiative, and Women's Philanthropy of the Greater Miami Jewish Federation; Jewish Women's Foundation of San Diego; and the Women's Philanthropy Network at Georgia State University. 
Free Virtual Film Screening and Panel Discussion: Nevertheless. Film available June 17 – 24. Panel Discussion June 24 at noon EST. 
Taking a look behind the headlines of #MeToo and Time's Up, NEVERTHELESS follows the intimate stories of individuals who have experienced sexual harassment in the workplace or school context. From a writer's assistant on "Friends" to a Tech CEO and 911 dispatcher, the film shines a light on the ways in which we can shift our culture and rebuild.

As part of Jewish Women's Fund of Atlanta's Change the Culture Initiative, we are excited to bring you this FREE film screening and panel discussion from the comfort of your own home!

Our panel of experts includes:
Moderator: Cynthia Good, Journalist and Founder of Little PINK Book
Panelists:
Emily S. Borna, Esq./Attorney at law, Jackson Lewis P.C.
Elana Wien, Executive Director of Safety Respect Equity Network
Ken Winkler, Attorney at Berman Fink Van Horn P.C.
Ula Zusman, Counselor at JF&CS Atlanta
View the trailer here: https://vimeo.com/355029333.  Learn more about the film at https://www.neverthelessfilm.com.

Change the Culture Summit.  
"As the #MeToo movement has grown and spread across industries and sectors, it has laid bare an inescapable truth: the Jewish community is subject to the same kinds of issues, inequities, and power dynamics that exist in other communities." -Safety Respect Equity Coalition
Over the past year, Jewish communities have begun engaging in a systematic effort to address sexual harassment, sexism, and gender discrimination in our workplaces and communal spaces. This includes congregations, day schools, and community-based nonprofits. National organizations and coalitions – such as the Safety, Respect, Equity Coalition and Ta'amod – have been founded to guide this work, and a special emphasis is being placed on the ethical – not only the legal – standards that we as Jews owe to each other.
Now it is Atlanta's turn.
 Jewish Women's Fund of Atlanta (JWFA) promotes social change and creates positive opportunities for Jewish women and girls. Since 2012, we have tackled gender inequality throughout our Jewish community. We are uniquely positioned to spearhead the Safety, Respect, Equity effort in Atlanta and are proud to announce the launch of our Change the Culture Initiative.
We are kicking off this initiative with a Change the Culture Summit on February 24, 2020 and are excited to welcome national experts to Atlanta who will provide invaluable information and training.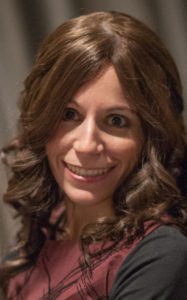 Dr. Guila Benchimol is the Senior Advisor to the Safety, Respect, Equity Jewish coalition to address sexual harassment and gender discrimination. She is also a research associate at the Centre for the Study of Social and Legal Responses to Violence where she works on projects related to homicide and domestic violence deaths. Guila holds a PhD in Sociological Criminology and an MA in Criminology and Criminal Justice Policy. She brings over ten years of experience as a Jewish educator to her work with various faith communities on gender based violence.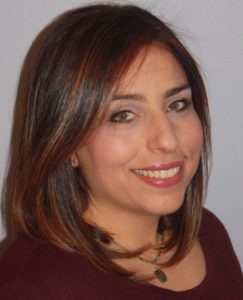 Nicole Nevarez is the inaugural National Director of Ta'amod: Stand Up!, a multi-pronged initiative dedicated to ending gender abuse, harassment and toxic culture in the Jewish communal space. Ta'amod brings this work to the Jewish community with a lens of creating respectful workplace culture rooted in Jewish values. A Jewish educator, trainer and facilitator, Nicole has held Director roles for both local and National Jewish organizations and nonprofit NYC theaters. Most recently, she served as New York Director for Moving Traditions, helping Jewish communities provide safe spaces for teens to find their own authenticity through both a Jewish and a gender lens. In addition to her work with Ta'amod, she provides independent consulting to mission-critical organizations to support them with efforts to create positive internal culture. Nicole believes that when we do the work to reflect on ourselves and our organizations, we have the power to impact deep systemic change.
The summit is specifically geared toward the unique dynamics and norms in Jewish communal spaces and will address all stakeholder groups, including professionals, clergy, board members, donors, and volunteers. Like all social change, correcting inequity and unhealthy power dynamics takes time, and this summit will be an important first step.
The summit is being offered at no charge and will be most successful if a broad cross-section of our community is in attendance. We would like to see representation from every Jewish institution and organization in the Greater Atlanta area. Please consider sending a team that includes your top professionals, board members, and volunteers.
We hope you will join us in our commitment to making our Jewish communal workplaces and communal spaces safe, respectful, equitable places where we can all thrive. Please join us as we begin this work together as one united community. It takes all of us together to create systematic change. 
"Women in Israeli Society Today: A Diplomat's Perspective." February 4, 2020. Registration is now closed. 
Join us for a breakfast briefing with Consul General of Israel, Anat Sultan-Dadon. Pre-registration is required by February 3, 2020. 
"Working together. Using our power. Becoming visible." with Jamie Allen Black. October 16, 2019. 3:00 p.m. 1440 Spring Street.  
Join Jamie Allen Black, CEO of Jewish Women's Foundation of New York, for a conversation on how we can work together, use our power, and become visible.
Recently, Jamie co-authored "The Week That All Jewish Women Turned Invisible," which not only went viral, it actually broke the internet! Learn how raising the visibility of JWFNY affected their work and made it possible to increase impact, and how the increased impact affected their visibility.
---

POW! Power of Women Pop-Up Giving Circle. November 10, 2019. 7:00 p.m. 5645 Dupree Dr. NW 
Get a taste of what it's like to be a JWFA Trustee! Over the course of one dynamic evening, women who contribute to this "pop-up" giving circle will hear live presentations about a select group of proposals* and work together to allocate the pool of money among the organizations. Open to all women; $180 per person (bring your high school daughter with you for no additional cost). You must be present to vote. 
You might be asking yourself, "what IS a pop-up giving circle?"
A pop-up giving circle is a standalone event that requires no pre- or post-work by participants. It is a quick and easy way for groups of people to amplify their impact by pooling their resources and deciding together how the money will be distributed. All money raised at this event will be given out that night!
Pop-up giving circles are not a new phenomenon, but to our knowledge this is the first one for the women of Jewish Atlanta. Please join us and see what the buzz is all about!
*Come hear presentations from the following:
Atlanta Jewish Academy Young Women in STEM Career Fair and Mentoring Program – This program will increase access to and interest in careers in STEM for Jewish women and includes a one-day career fair with year-round mentoring opportunities for female high school students in Greater Atlanta. It provides access for the students to meet with women who have a variety of careers in STEM fields and to learn about STEM-based college curricula and career opportunities with the additional benefit of mentorship opportunities.
JumpSpark ATL Strong Women Fellowship: Building on the success of last year's pilot, this program provides female-identifying Jewish teens in Atlanta access to strong female leaders, connection with peers, and empowering learning. By grappling with the myriad issues facing women today, this fellowship prepares teens to be strong leaders and advocates while incorporating a peer training model.
Sojourn: Southern Jewish Resource Network for Gender and Sexual Diversity Comprehensive Sex Education for Jewish LBGTQ Teens – This pilot program will empower participants to make informed and responsible decisions about sexual health and behavior by providing age-appropriate, medically-accurate, comprehensive sex education that is targeted specifically for members of the LGBTQ and Jewish communities. A broad range of topics will include human development, relationships, contraception, and disease prevention.
***
Thank you to our sponsors, Atlanta Jewish Academy Board of Trustees, Linda Davis, Ilene Engel, and Michal Hillman. Sponsorships will help underwrite the cost of this event and are available when you register.

Conquer Your Fears. September 12, 2019. 12:00 – 1:30 p.m. 
Jewish Women's Fund of Atlanta and Kim Normand Dobrin invite you to conquer your fears!
Learn specific tools to assess, access, and release your fears.
Fear is an aspect of each of us that is often neither discussed nor addressed in a focused manner that gives specific guidance, skills, and tools to use on a daily basis.
As women, we are juggling so much; this in itself can bring anxiety and fear.
We will look at living with intention. What does this mean? How can you use these skills daily?
Space is extremely limited. Open to all women. $36 includes lunch and a workbook.
Human Trafficking: A Jewish Issue. March 28, 2019. 7:30 p.m.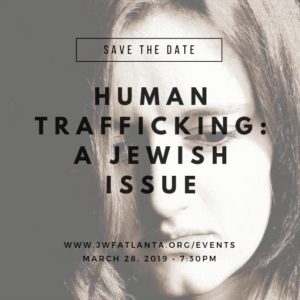 DID YOU KNOW? Currently, 12,400 men in Georgia purchase sex from a minor every month. In Israel, thousands of women are trafficked every day. Every human being has the right to make their own decision about their body, life, and future. No one should be forced to work or engage in a sex act against their will. As Jews, it is our duty to eliminate this modern-day slavery, and Jewish Women's Fund of Atlanta wants to partner with you to make that happen. 
Join us on March 28, 2019 as we address this crisis with experts in the field locally, nationally, and in Israel. The program includes:
Lauren Hersh, former prosecutor and national expert on sex trafficking, online safety, and workplace harassment.  
Ouleye Ndoye Warnock, Senior Human Trafficking Fellow for the Office of Mayor Keisha Lance Bottoms 
An update about our groundbreaking efforts in Israel and recent significant successes in this arena.
By sponsoring this event, you are publicly stating that there is no place for human trafficking in today's world. Contact us for more information. 

Coffee & Conversation: Racial & Ethnic Diversity in the Jewish Community. March 12, 2019. 10 – 11:30 a.m. Free. 
Racial and ethnic diversity is both a historic and contemporary reality of Jewish life. Join us to learn from three Atlanta women with distinct stories and backgrounds about their experiences. Participate in engaging conversation about what diversity means for Jewish women in Atlanta. This unique opportunity to talk and learn together is being held in partnership with Be'chol Lashon, a national organization that celebrates ethnic and racial diversity in the Jewish community.
Coffee & Conversation with Jewish Women's Fund of Atlanta: Join us for coffee, conversation, and a greater understanding of our mission and impact. At Coffee & Conversation, the activity or topic might change, but the goal is always the same: introduce women to our mission of promoting social change and creating positive opportunities for Jewish women and girls. From yoga to book club to guest speakers on important topics, Coffee & Conversation will offer something for everyone!
Coffee & Conversation: Human Trafficking and the Jewish Community. January 30, 2019. 12 – 1 p.m. Free. Register here.
Please join us for coffee, a brief information session about our work, and a discussion about human trafficking and the Jewish community. 
Coffee & Conversation with Jewish Women's Fund of Atlanta: Join us for coffee, conversation, and a greater understanding of our mission and impact. At Coffee & Conversation, the activity or topic might change, but the goal is always the same: introduce women to our mission of promoting social change and creating positive opportunities for Jewish women and girls. From yoga to book club to guest speakers on important topics, Coffee & Conversation will offer something for everyone!

MJCCA Book Festival, "Three Authors, One Event." November 8, 2018. 10 a.m. Free. 
Jewish Women's Fund of Atlanta is proud to host Susan & Laura Stachler, authors of "Cookie Cure," Sally Mundell, author of "Packaging Good," and Ruby Mundell, author of "Kindness Come In" at this year's Atlanta Jewish Book Festival. After 26 successful years, the Book Festival of the MJCCA has provided our community with a literary extravaganza featuring an exciting lineup of the year's most exceptional authors, celebrities, and thinkers. 
---
Volunteer with us. Zaban Paradies Center for Homeless Couples. November 13, 2018. 10 a.m. Free. RSVP required.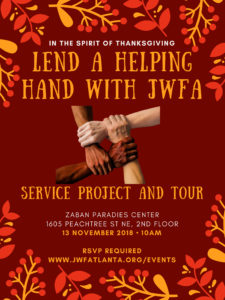 There is never a bad time to give back to your community, but what better time than right before Thanksgiving. Join us as we make packaged lunches for the residents of the Zaban Paradies Center for Homeless Couples. 
Human Trafficking Awareness and Action Training. October 16, 2018. 8:30 – 11:30 a.m. Free.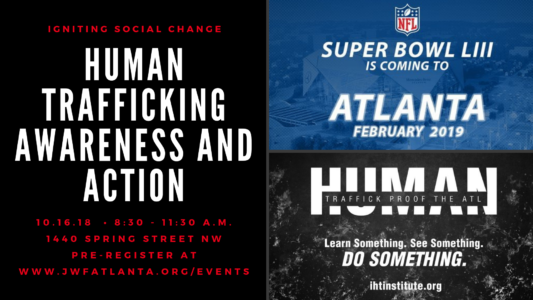 DID YOU KNOW? Currently, 7,200 men purchase sex from a minor in Georgia EVERY MONTH. In advance of the 2019 Super Bowl coming to Atlanta, we are taking action to make change happen.
We are thrilled to partner with the International Human Trafficking Institute to make necessary changes to our local community. In three years, 50,000 metro Atlanta residents will be trained in human trafficking awareness and action. On October 16th at 8:30 a.m., we hosted a "train the trainer" workshop. Those trained will commit to training an additional 300-500 volunteers in advance of the Super Bowl. Click here to register, and contact us for more information.
---
Coffee & Conversation: Book Club Edition. October 11, 2018. 
Come celebrate International Day of the Girl with Jewish Women's Fund of Atlanta! Please join us for coffee, a brief information session about our work, and a guided book discussion with an expert facilitator. We will be discussing "The Female Persuasion" by Meg Wolitzer.
---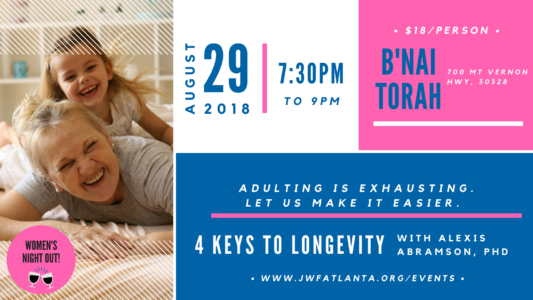 "4 Keys to Longevity" with Alexis Abramson, PhD. August 29, 2018. 
Adulting is exhausting! Let us make it easier. Join Jewish Women's Fund of Atlanta and Alexis Abramson, Ph.D. to discover the "4 Keys to Longevity." Learn which changes to your life can have a positive impact on the aging process and add both quality and quantity to your years. 
***
Alexis Abramson, Ph.D. is a leading industry expert and 'trendspotter' for those over 50. She is an inspiring speaker, blogger, corporate consultant, author, and award-winning entrepreneur and journalist. Her commitment to baby boomers and mature adults has been featured in many national publications, including TIME, Forbes, the Wall Street Journal, Entrepreneur and People. Dr. Abramson is an Emmy and Gracie award-winning journalist who has appeared frequently as an on-air expert gerontologist for NBC's Today show, CNN, CBS, RLTV, MSNBC and numerous other media outlets.
***
Community Partners: AgeWell Atlanta, a collaborative with Aviv Older Adult Services of JF&CS Atlanta, Jewish Federation of Greater Atlanta, Jewish Home Life Communities, and the Marcus Jewish Community Center of Atlanta – MJCCA; Cong. Beth Jacob Sisterhood; Hadassah Greater Atlanta; Jewish Federation of Greater Atlanta Women's Philanthropy; MACoM – Metro Atlanta Community Mikvah; and Temple Sinai. 
Coffee & Conversation: Yoga Edition. August 22, 2018. 
Before you know it, summer will be over, a new school year will start, and the Jewish holidays will be fast-approaching. Adulting is exhausting! Take a break from it all and join Jewish Women's Fund of Atlanta for a yoga class and information session about our work. 
---

"RBG" a film screening in partnership with the Atlanta Jewish Film Festival. 

May 10, 2018. 7:30 p.m. United Artists Tara Cinemas 4.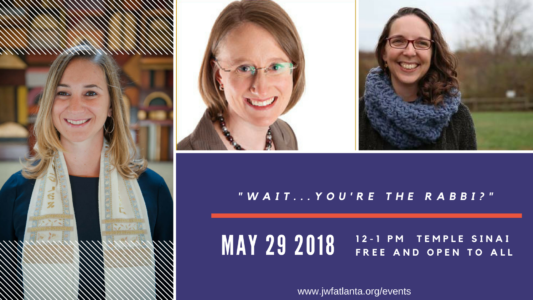 "Wait…YOU'RE the rabbi?" Conversations with three women rabbis.
May 29, 2018. 12 – 1 p.m. Temple Sinai Atlanta (5645 Dupree Dr. NW; Sandy Springs, GA 30327)
Three of our Trustees, Rabbis Loren Filson Lapidus, Lydia Medwin, and Sam Shabman, shared their perspectives on being young, female rabbis. 
JWFA Ignites! 5 Years, 3 Founders, 1 Mission. January 19, 2018. 

Visit our JWFA Ignites page for full information about Jewish Women's Fund of Atlanta Ignites: 5 Years, 3 Founders, 1 Mission, honoring our founders, Carol Cooper, Ilene Engel, and Sara Franco. 

Lunch and Learn: "Demystifying Mikvah: Claiming this Traditional Women's Ritual as our Own." October 30, 2017
Two JWFA Trustees, Rabbi Loren Filson Lapidus and Rabbi Lydia Medwin, led this session at Metro Atlanta Community Mikvah. Mikvah is an ancient Jewish ritual that has infinite contemporary applications. By understanding the concept of mikvah and how it is used in both traditional and innovative ways, we reflected on how the mikvah might fit into our own spiritual practices.
Women on Board, Finding Your Voice as a Volunteer Leader: June 21, 2017
Empowering women as leaders is an integral part of Jewish Women's Fund of Atlanta's mission. We partnered with the Atlanta Women's Foundation to bring a customized leadership training for women in Atlanta's Jewish Community. This training is usually offered for $150 per person, but JWFA brought it to the Jewish community for a deep discount. If you are a current or aspiring board member of a school, congregation, or nonprofit, this is the training for you!
Film Screening, "Brave Miss World": April 4, 2017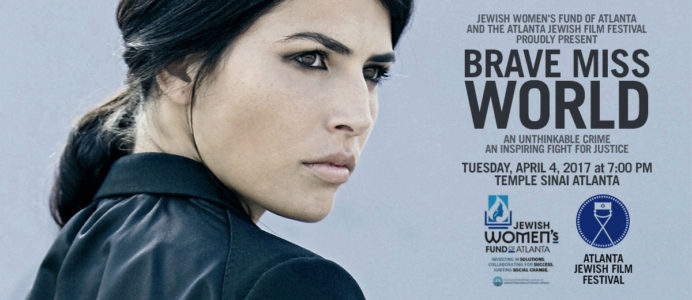 Jewish Women's Fund of Atlanta and the Atlanta Jewish Film Festival hosted an exclusive screening of "Brave Miss World," followed by a panel discussion with experts in the field and a delicious dessert reception catered by The Spicy Peach. A portion of all ticket sales went directly to sexual assault prevention. Panelists included: Mariela Romero (Emmy award winning Univision anchor and Community Affairs Director), Esther Panitch (civil and criminal attorney), Judy Spira (clinical social worker and domestic violence expert), and Jessica Caldas (artist, advocate, activist, survivor).
We are grateful to the following organizations for being our Community Partners for this event: Congregation Dor Tamid Sisterhood, Greater Atlanta Hadassah, International Women's House, Inc., Jewish Family & Career Services, Jewish Federation of Greater Atlanta Women's Philanthropy, Jewish Women International, MACoM (Metro Atlanta Community Mikvah), NCJW, Partnership Against Domestic Violence, Temple Kehillat Chaim Sisterhood, Temple Kol Emeth WRJ Sisterhood, Temple Sinai Atlanta, and The Temple.
Eating Disorders and the Jewish Community: February 23, 2017

"The food-centric traditions, in conjunction with society's drive for thinness, strongly influence the development of eating disorders in the Jewish community." – Dr. Carrie Poline
Eating disorders are a serious and pervasive issue for Jewish girls and women. Jewish Women's Fund of Atlanta invited the Jewish community to learn from a panel of experts from the Eating Disorders Information Network about the prevention and treatment of eating disorders. The panel included: Ruth Falkenstein, Recovery Speaker and EDIN Board Member; Jamie Glazerman, MA, LPC, Therapist at Atlanta Center for Eating Disorders; Page Love, MS, RD, CSSD, LD, Registered dietitian and owner of Nutrifit, Sport, Therapy, Inc.; Carrie Poline, DO, FAPA, Child, Adolescent & Adult Psychiatry Medical Director, Atlanta Center for Eating Disorders; and Eileen Shaw, RDN, LD, LPC, Nutrition Expert. Click here for the Power Point presentation from this event.
United We Lead, Lessons from Contemporary and Biblical Jewish Women Leaders: March 6, 2017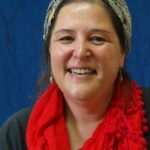 Why are so many more leadership positions held by men than women? Rabba Devorah Evron suggests the answer may relate to gender-specific leadership styles. Drawing from the stories of ancient and contemporary Jewish women, Devorah shed light on a particularly female, collaborative approach to activism and leadership for social change and its relevance in the home, community, and society.
Rabba Devorah Evron is an authority on Judaism and gender in Israel and a longtime activist for women's empowerment. She is the Director of the Elga Stulman Institute for Jewish Women's Studies at HaMidrasha Center for Pluralistic Jewish Education in Israel.
Other Past Events
"Society, Workplace, and Politics: How has the position of Israel's women changed?" (December 2015) A Conversation with Consul General of Israel, Ambassador Judith Shorer, in partnership with The Temple's Sandwich Salon.
"The Doctor Is In: Dr. Ruth Westheimer" (November 2015). Community Partner of the Book Festival of the MJCCA
"Take Your Seat at the Table: A Jewish Woman's Guide to Financial Empowerment and Protection" (October 2015)
"Divorce: Our Communal Responsibility" (January 2015)
"A Conversation with Michal Barkai," Founder of JWFA Grantee Partner Alma Pre-Army Preparatory Academy for Women (December 2014)
Lunch and Learn: "Jewish Women and Hunger," in partnership with Atlanta Community Food Bank (February 2014)
"Women on Board Leadership Training Program," in partnership with Atlanta Women's Foundation (November 2013)
Brunch and Learn: "Substance Abuse and Addiction Among Jewish Women and Girls," in partnership with Jewish Family & Career Services HAMSA program (October 2013)