Upcoming Events
Jewish Women's Fund of Atlanta education and advocacy efforts broaden the scope of our work and complement our portfolio of grants. By using a Jewish and gender lens to delve into topics such as addiction, poverty, financial literacy, and divorce, JWFA elevates Jewish women's and girls' issues to the forefront of the conversation. JWFA works strategically with local partners to host periodic seminars and discussions on relevant and pertinent subjects at hand. We invite you to engage with us by attending events and educational opportunities.
Recent Past Events
JWFA Ignites! 5 Years, 3 Founders, 1 Mission. January 19, 2018. 

Visit our JWFA Ignites page for full information about Jewish Women's Fund of Atlanta Ignites: 5 Years, 3 Founders, 1 Mission, honoring our founders, Carol Cooper, Ilene Engel, and Sara Franco. 

Lunch and Learn: "Demystifying Mikvah: Claiming this Traditional Women's Ritual as our Own." October 30, 2017
Two JWFA Trustees, Rabbi Loren Filson Lapidus and Rabbi Lydia Medwin, led this session at Metro Atlanta Community Mikvah. Mikvah is an ancient Jewish ritual that has infinite contemporary applications. By understanding the concept of mikvah and how it is used in both traditional and innovative ways, we reflected on how the mikvah might fit into our own spiritual practices.
Women on Board, Finding Your Voice as a Volunteer Leader: June 21, 2017
Empowering women as leaders is an integral part of Jewish Women's Fund of Atlanta's mission. We partnered with the Atlanta Women's Foundation to bring a customized leadership training for women in Atlanta's Jewish Community. This training is usually offered for $150 per person, but JWFA brought it to the Jewish community for a deep discount. If you are a current or aspiring board member of a school, congregation, or nonprofit, this is the training for you!
Film Screening, "Brave Miss World": April 4, 2017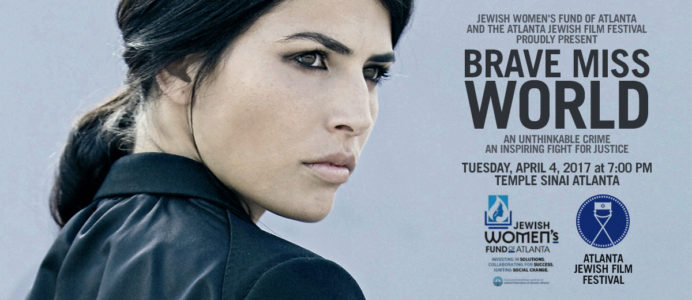 Jewish Women's Fund of Atlanta and the Atlanta Jewish Film Festival hosted an exclusive screening of "Brave Miss World," followed by a panel discussion with experts in the field and a delicious dessert reception catered by The Spicy Peach. A portion of all ticket sales went directly to sexual assault prevention. Panelists included: Mariela Romero (Emmy award winning Univision anchor and Community Affairs Director), Esther Panitch (civil and criminal attorney), Judy Spira (clinical social worker and domestic violence expert), and Jessica Caldas (artist, advocate, activist, survivor).
We are grateful to the following organizations for being our Community Partners for this event: Congregation Dor Tamid Sisterhood, Greater Atlanta Hadassah, International Women's House, Inc., Jewish Family & Career Services, Jewish Federation of Greater Atlanta Women's Philanthropy, Jewish Women International, MACoM (Metro Atlanta Community Mikvah), NCJW, Partnership Against Domestic Violence, Temple Kehillat Chaim Sisterhood, Temple Kol Emeth WRJ Sisterhood, Temple Sinai Atlanta, and The Temple.
Eating Disorders and the Jewish Community: February 23, 2017

"The food-centric traditions, in conjunction with society's drive for thinness, strongly influence the development of eating disorders in the Jewish community." – Dr. Carrie Poline
Eating disorders are a serious and pervasive issue for Jewish girls and women. Jewish Women's Fund of Atlanta invited the Jewish community to learn from a panel of experts from the Eating Disorders Information Network about the prevention and treatment of eating disorders. The panel included: Ruth Falkenstein, Recovery Speaker and EDIN Board Member; Jamie Glazerman, MA, LPC, Therapist at Atlanta Center for Eating Disorders; Page Love, MS, RD, CSSD, LD, Registered dietitian and owner of Nutrifit, Sport, Therapy, Inc.; Carrie Poline, DO, FAPA, Child, Adolescent & Adult Psychiatry Medical Director, Atlanta Center for Eating Disorders; and Eileen Shaw, RDN, LD, LPC, Nutrition Expert. Click here for the Power Point presentation from this event.
United We Lead, Lessons from Contemporary and Biblical Jewish Women Leaders: March 6, 2017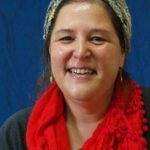 Why are so many more leadership positions held by men than women? Rabba Devorah Evron suggests the answer may relate to gender-specific leadership styles. Drawing from the stories of ancient and contemporary Jewish women, Devorah shed light on a particularly female, collaborative approach to activism and leadership for social change and its relevance in the home, community, and society.
Rabba Devorah Evron is an authority on Judaism and gender in Israel and a longtime activist for women's empowerment. She is the Director of the Elga Stulman Institute for Jewish Women's Studies at HaMidrasha Center for Pluralistic Jewish Education in Israel.
Other Past Events
"Society, Workplace, and Politics: How has the position of Israel's women changed?" (December 2015) A Conversation with Consul General of Israel, Ambassador Judith Shorer, in partnership with The Temple's Sandwich Salon.
"The Doctor Is In: Dr. Ruth Westheimer" (November 2015). Community Partner of the Book Festival of the MJCCA
"Take Your Seat at the Table: A Jewish Woman's Guide to Financial Empowerment and Protection" (October 2015)
"Divorce: Our Communal Responsibility" (January 2015)
"A Conversation with Michal Barkai," Founder of JWFA Grantee Partner Alma Pre-Army Preparatory Academy for Women (December 2014)
Lunch and Learn: "Jewish Women and Hunger," in partnership with Atlanta Community Food Bank (February 2014)
"Women on Board Leadership Training Program," in partnership with Atlanta Women's Foundation (November 2013)
Brunch and Learn: "Substance Abuse and Addiction Among Jewish Women and Girls," in partnership with Jewish Family & Career Services HAMSA program (October 2013)